SM Pro Audio Ships M-Patch 2
SM Pro Audio is now shipping the new M-Patch 2 passive volume control/switcher unit in the US market through their distributor, Kaysound Imports.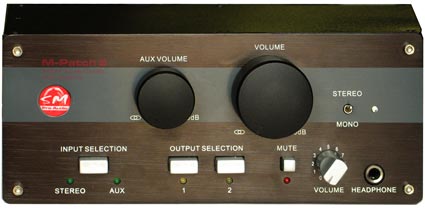 The M-Patch 2 is a compact desktop/rack-mountable passive volume attenuator and patch control device. Building on the success of the original M-Patch, the new M-Patch 2 is a feature packed passive problem solver for nearly all production environments. The M-Patch 2 provides an ideal stereo level control solution for any monitoring or distributed sound application and is a great way to attenuate passively stereo signals from soundcards, CD players, pre-amps, and mixers. The MPatch 2 front panel rotary controls allow precise level adjustments for two input sources. The unit features balanced combo XLR/TRS input jacks and XLR outputs, RCA & 3.5mm jack inputs, mono/stereo summing switch, mute switch, A/B output pairs, and a built in stereo headphone amplifier.
Features:
• Passive volume attenuation control
• Independent Main & Aux controls
• A/B multiple outputs
• Balanced and unbalanced input (XLR, RCA)
• Stereo/Mono summing switch
• Mute function switch
• 2 x stereo input sources
• 2 x stereo output destinations (A&B)
• Built in headphone amp
• 3.5mm input for soundcard matching
• Half rack sized desktop design
One of the benefits of passive volume attenuation is that you no longer have to control volumes with your software master volume fader. Reducing audio levels from software reduces your bit depth and can lead to signal quality loss. It is much more appropriate to keep your software masters at unity and passively attenuate the audio to your active monitors.
"Passive devices have become the only truly accepted method for adjusting levels to active monitors," said John Fuller, Product Manager for SM Pro Audio. "Our M-Patch 2 delivers in regards to passive switching and volume control, and adds the benefit of a handy headphone amplifier."
The SM Pro Audio M-Patch 2 retails for $219. More information on the SM Pro Audio M-Patch 2.