ifrogz Announces Tadpole Video iPod Case
ifrogz has announced the Tadpole, its new line of video iPod cases made specifically for children ages one and up. Solidly constructed from the same high-grade, dust-repellant silicone as ifrogz's popular fully customizable iPod cases, the Tadpole gives busy parents a way to entertain their children wherever they go with content uploaded to their video iPods.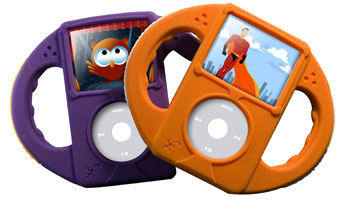 The cases are engineered with two large handles that not only help children maintain a solid grip on the iPod, but also provide additional protection for the device. Measuring only 5.5-inches wide, 4.25-inches high, 0.75-inches thick and barely touching the scale at just 2.7 ounces, the Tadpole adds superior protection without significant bulk. And with multiple colors to choose from, there's sure to be a Tadpole that fits everyone's fancy.
The ifrogz Tadpole has a suggested retail price of $24.99. The Tadpole will begin shipping in early December 2006. More information on the ifrogz Tadpole.