Scosche's SoundKase Division Introduces Sonic(!)Boom iPod Backpack
SoundKase, a division of the crazy Scosche company, has introduced an iPod Backpack, dubbed the Sonic(!)Boom, with a built in sound system including a 5 Watt amp and speakers. Just slip your iPod in the pack's see-through pouch, plug the jack in and annoy everyone around you! Perfect for the Subway, Metro, Tube or any other public transit system. Mind The Pack!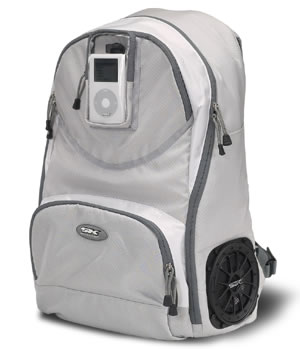 Features:
• Clear iPod/mp3 player display pocket
Carry Handle
• Contoured padded shoulder straps
• Mesh cell phone pouch
• Sternum strap and waist strap
• 1750 cu. in. – 14″ L x 6-3/4″ W x 18-1/2″ H
• 5 watts per channel amp
• 4″ superlight Neodymium, magnetically shielded speaker
• Speaker impedance 8 Ohms
• 3.5mmm input/output connectors
• Output voltage 9 vdc
• 6 "AA" battery type for a claimed 10 hrs. of battery life
• Water & UV resistant polypropylene speaker cones
• Optional Padded lap top sleeve fits 70oz hydration bladder
• Optional Wireless RF remote control for iPod
The SoundKase Sonic(!)Boom costs $149.95 in either Black or White. More information on the SoundKase Sonic(!)Boom.