IK Multimedia's StealthPlug Now Shipping
IK Multimedia has announced that its first hardware product, StealthPlug, is now shipping. StealthPlug is the first compact and affordable 1/4" jack to USB audio interface cable for guitar and bass players to plug into the world of software-based amp/effects modeling and recording. It comes bundled with 6 software and sounds packages: a guitar/bass amps and effects standalone and plug-in processor, a full recording studio, 2 effects and instrument plug-ins and loads of ready to use sounds and loops. Portable and easy to use, StealthPlug is the perfect solution for recording, practicing, and playing your guitar or bass, anytime or anywhere.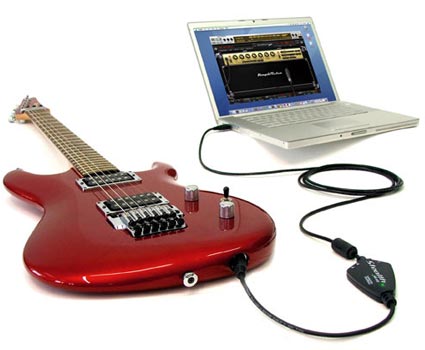 StealthPlug is the first audio interface for guitar and bass integrated into a simple, miniaturized, 1/4″ jack to USB cable with full input/output processing for your PC or Macintosh.  It's so easy to use that you will be able to plug into your computer as you would plug into an amplifier. Be ready to rock in seconds and plug into the world of software-based amp/effects modeling and recording.
StealthPlug includes the new, easy to use, award winning, AmpliTube 2 Live standalone and plug-in for your favorite recording software. Fully MIDI-controllable with 15 guitar and bass amp combinations of the most sought after gear, 11 effects, mic-modeling with 2 microphones and position controls, built-in tuner and more than 128 customizable user presets. Plus the standalone version also offers the new SpeedTrainer, an integrated audio player with pitch and speed control, for playing with or learning your favorite songs.
Four additional software packages bundled with the StealthPlug make it the most affordable and complete hardware/software solution for playing, practicing and recording on the market. Compose and record with the full audio/MIDI sequencer Tracktion 2.1 by Mackie, fine tune your work with IK's acclaimed T-RackS 6-band mastering EQ, use the included SampleTank 2 SE sound workstation and its 64 sounds to compose and arrange your MIDI tracks, plus get access to a staggering 500MB of Sonic Reality loops with guitar, bass and drum loops for you to use within your songs or play along with. Moreover, you will also be eligible for upgrades/crossgrades to the the full versions of the included software and the entire IK range at highly reduced prices, making the StealthPlug the best value for any guitarist or bassist!
StealthPlug is the perfect companion for mobile guitarists and bass players, taking up just a little more than the space of a cable to bring it with you. Use StealthPlug with your laptop or home computer as the best solution for practicing, playing live, or recording. Capture your best ideas right when they come to you, whenever or wherever you are.
 
System Requirements
Macintosh: 866MHz Power Macintosh G4, with 512MB of RAM, Mac OS X 10.3 or later, 1024×768 screen thousands of colors. One free USB port. Intel-based Macintosh: 1.5 GHz Intel Core Solo processor, 512 MB of RAM, Mac OS X 10.4.4 or later. One free USB port. Windows: Pentium III 1GHz/Athlonâ"¢ XP 1.33GHz with 256MB of RAM, Windows XP, 1024×768 screen thousands of colors. One free USB port.
 
The StealthPlug with included software bundle costs $129/€99 (VAT excluded) and is now available from all IK Multimedia distributors and dealers worldwide. More information on the StealthPlug and AmpliTube 2 Live software.