IK Multimedia Unveils AmpliTube 2 Live
IK Multimedia has announced AmpliTube 2 Live, a introductory version of IK's guitar and bass amps/effects modeling software, AmpliTube 2. AmpliTube 2 Live is available both as a plug-in for the most popular sequencers (supporting VST, RTAS and Audio Unit plug-in format) as well as a standalone application.

The standalone version includes also the new SpeedTrainer, an integrated audio player with independent pitch and speed control, for playing with or learning your favorite songs. SpeedTrainer allows you to drag any WAV or MP3 from your hard disk (even iTunes files!), set loop points easily for playing over and tracking your preferred riffs. Also an included metronome (set by BPM or Tap) is very useful for the studying and practicing guitarist.
AmpliTube 2 Live includes a simplified version of the complete guitar rig that can be found in its parent version, including 3 guitar and bass amps modeled on the most sought after vintage gear, 5 cabinets, and Mic modeling with 2 microphones and position controls. This allows a total of 15 amp combination possibilities for the widest range of guitar and bass tones, from clean to crunch to lead.  Plus, all of the models are using the new AmpliTube 2 DSM™ (Dynamic Saturation Modeling), technology that has given AmpliTube a sound and feel so real that is has been proclaimed the best among all other modeling software or hardware solutions.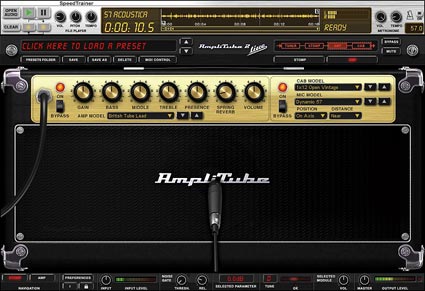 AmpliTube 2 Live also includes a virtual pedal board where a selection of up to 5 stomp effects can be inserted among the 9 stomp effects available: Overdrive, Delay, Chorus, Flanger, Compressor, Opto-Tremolo, Graphic Equalizer, Wah and Volume pedal. The pedal board is fully configurable so the effects can be mixed and matched to easily obtain the widest palette of sonic textures. A chromatic tuner is of course available for fast guitar and bass tuning. Plus, a Spring reverb in the amp section and a Gate effect in the input section bring the number of available effects to 11.
128 presets are included in AmpliTube 2 Live and an unlimited number can now be saved in its new and fully customizable, folder organization. Moreover, its presets are also fully compatible and can be loaded in the full version of AmpliTube 2. AmpliTube 2 Live is fully MIDI controllable. Presets can be switched and every effect can be turned on/off and Volume and Wah pedals can be easily controlled using any standard MIDI foot controller or other types of MIDI controllers. A convenient MIDI learn function allows for an extremely easy to use set up process, so that configuring the MIDI controls for AmpliTube 2 Live in a snap.
AmpliTube 2 Live users are also eligible to the special upgrade price to the full version of AmpliTube 2 with savings up to nearly 40%. Special upgrade/crossgrade prices are also available for a wider range of other IK products including AmpegSVX, the first bass amp and effects plug-in, and the Total Bundle series with savings up to 67% off regular price.
System Requirements:
Macintosh: 866MHz Power Macintosh G4, with 512MB of RAM, Mac OS X 10.3 or later, 1024×768 screen thousands of colors. One free USB port. Intel-based Macintosh: 1.5 GHz Intel Core Solo processor, 512 MB of RAM, Mac OS X 10.4.4 or later. One free USB port. Windows: Pentium III 1GHz/Athlonâ"¢ XP 1.33GHz with 256MB of RAM, Windows XP, 1024×768 screen thousands of colors. One free USB port.
AmpliTube 2 Live is available only with the StealthPlug USB audio interface cable (too bad! –Ed.), together with a much larger software bundle package, for an MSRP of only $129/€99 (VAT excluded) and is now available from all IK Multimedia distributors and dealers worldwide. More information on AmpliTube 2 Live.