DyVision Works Launches DyScratch
Suddenly there's a boatload of Scratch Plug-Ins making their way to market. DyScratch from DyVision Works is a VST instrument (VSTi) for use in modern DAW programs. It provides a producer or songwriter with the ability to create scratch sounds / effects from their own samples or recordings without leaving the sequencer environment. Whats more, every single parameter (including the actual scratch motion and speed) can easily be recorded, tweaked and automated using MIDI from within your VST sequencer environment. DyScratch can also be played live using a standard MIDI keyboard.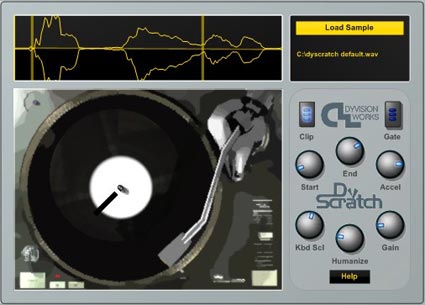 Features:
• Load and scratch any standard WAV file
• Integrates seamlessly with VST hosts that support the VSTi format
• ALL parameters can be recorded and automated via standard MIDI
• Scratch your samples 'live' using a controller keyboard with a pitch- bend wheel, or play scratches using the keyboard (this feature is unique to DyScratch)
• Set the start and end points of the range within the sample you want to scratch. For example you could load an entire breakbeat and isolate just the snare, then scratch the hell out of it!
• Wave display for a visual representation of start-end points as well as the current scratch position within the wave
• Optional 'Gate' can be used to create crossfader cuts and FX
• Animated turntable
• Bulit in 'Clipper' effect simulates overdriven vinyl levels
• Variable 'Humanize' function simulates the human touch
DyScratch costs $39.21 from DyVision's website. More information on DyVision Works DyScratch.