Digidesign Announces Velvet – New Vintage Electric Pianos Instrument
Digidesign's Advanced Instrument Research (A.I.R.) group has announced a new RTAS instrument plug-in, called Velvet, that delivers "highly realistic emulations" of classic to modern electric pianos for Pro Tools. According to Digidesign, Velvet accurately emulates the nuances of the original instruments, both in sound quality and playing feel, and is based on four legendary electric pianos–the Fender Rhodes Suitcase, Fender Rhodes MK I and MK II Stage Pianos, and Wurlitzer A200.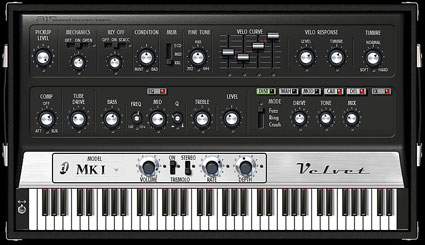 To dial up the perfect piano sound with Velvet, just select one of over 100 presets–or tweak the sound to your heart's content. Velvet features precisely modeled emulations of classic tube overdrive, compression, EQ, wah/filter, chorus, tremolo, tape delay, and other effects to deliver high quality and realistic sounds. And its controls work virtually almost like the originals, allowing you to easily modify sounds at the twist of a knob or notch of a slider. "The sound of a vintage piano isn't just what you record at its audio output," Gorges noted. "It's also shaped by the amplifier and speakers–or a preamp–and most sounds rely on effects such as chorus, phaser, wah, and tape delay."
To achieve its electric piano recreations, Velvet employs proprietary dynamic modeling, a unique combination of sampling and modeling techniques. "We first recorded select original pianos with painstaking precision for accurate sound character reproduction, which no current modeling technique can cover convincingly," explained Gorges. "Then we looked at the various behaviors of the piano as you play it, and trained the underlying engine to reproduce them." This allows you to pull off sounds you'd normally only hear with a real electric piano–from the faintness of the lightest pianissimo to the note splat of the strongest fortissimo.
Velvet will be available soon for $249. More information on Digidesign's Velvet.