Ultimate Ears Releases triple.fi 10 Pro Earphones
Ultimate Ears has released the triple.fi 10 Pro earphones, their new flagship that features 3 individual speaker in earch earphone. UE claims the triple.fi 10 Pro's offer the "most detailed and sonically rich experience when listening to any style of music."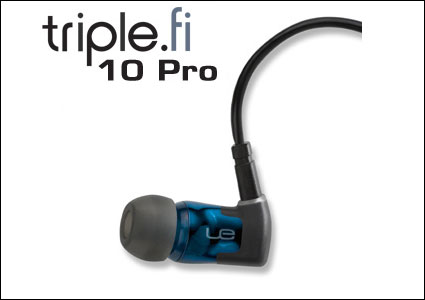 The triple.fi 10 Pro is Ultimate Ears latest technological breakthrough making this our only 3 individual speaker professional earphone product. These earphones also incorporate all the best features that Ultimate Ears universal products have to offer including pro-style ear loops that secure your earphones in place and a universal fit kit with ear tips that maximize your comfort and increase noise isolation from the sounds around you. The triple.fi 10 Pro's also come with a metallic protective travel case, sound attenuator and 1/4″ adaptor jack.
Features:
• Earphone Type: In-ear
• Speaker Type: Three individual balanced armature speakers
• Input Sensitivity: 117dBSPL/mW
• Impedance: 32 ohms nominal (at 1khz)
• Cable Length: 46 inches
• Weight: With Cable Assembly: 0.6 oz.
• Input connector: 1/8″ (3.5mm) Gold plated
• Noise isolation: 26 dB
The Ultimate Ears triple.fi 10 Pro Earphones are available now for $399.99. More information on the Ultimate Ears triple.fi 10 Pro Earphones.