Weekend Fun: The ThrustPac
You know how we're big fans of Personal Propulsion, so when we discovered PacificWind's ThrustPac we had to pass it along to our beloved readers. The ThrustPac is one of those extra special ideas that come along just to reveal true human stupidity ingenuity. Let me tell you, there's nothing like strapping a large gas-powered propeller to your back and letting natural selection take its course.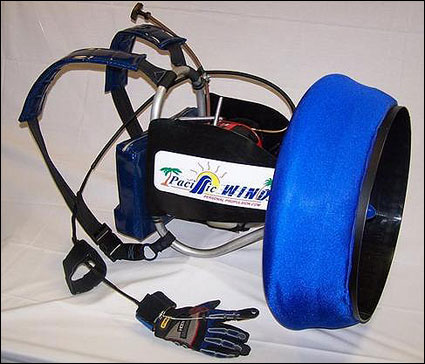 PacificWind claims this contraption can boogie a human up to 35 miles per hour. Frankly, that's just not fast enough to cause instant catastrophic death, so we think that the company should investigate how to incorporate the propeller thrust system found on an Air Boat in a new Turbo model. Now that would set you free!
If you want to learn how to party, check out the video below of the ThrustPac in action. These two guys really know how to have a good time in a parking lot. Then check out their circa 1997 website for more info. Added Bonus: If you scroll to the bottom of their homepage, you can see one of those cutting-edge page counters in action!
More information on the PacificWind ThrustPac.