M-Audio Reveals X-Session Pro DJ Controller
M-Audio has announced the X-Session Pro USB MIDI DJ controller for only $129 bucks. This pro model is the result of M-Audio's acquisiton of Evolution, a UK concern that Digidesign snapped up earlier this year. Evolution's controllers were one of the first models aimed at the DJ market, but shoddy manufacturing and lightweight materials limited their wholehearted adoption by the DJ community.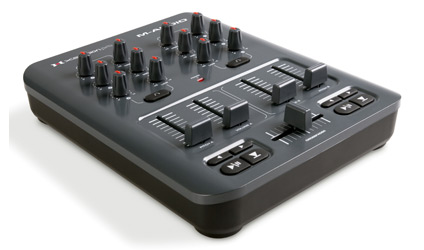 The original X-Session has now been M-Audio-ized and the unit looks like it addresses all the weaknesses of its predecessor. M-Audio certainly knows how to make a solid controller at the perfect price point. And 129 beans for this puppy translates will translate into serious sales numbers.
The X-Session Pro USB MIDI controller is the easiest way to bring traditional DJ mixer-style control to the world of computer DJing and live performance. With a single USB connection, you get dedicated tactile controls for volume, pitch, EQ, cueing, transport and a crossfader. As a class-compliant USB MIDI controller, you can use it to control applications like Ableton Live, Traktor DJ Studio or any software that supports MIDI Learn, enabling you to bring DJ-inspired crossfades and filter sweeps into your live performances as well as studio productions.
Features:
• 4 MIDI sliders
• 12 MIDI knobs
• 10 MIDI buttons
• MIDI crossfader
• DJ mixer-inspired layout
• Powered via USB
• Class-compliant with Windows XP and Mac OS X
• on/off switch
Windows requirements: Windows XP (SP2 or later), Pentium III 500 MHz (higher speed CPU may be necessary for laptops), 256MB RAM. Apple requirements: Mac OS X 10.3.9/10.4.7 or later, Macintosh G3**600 / G4**667MHz (higher speed CPU may be necessary for laptops), 256MB RAM
The M-Audio X-Session Pro is available now for $129. More informtation on the M-Audio X-Session Pro.