Palm Introduces New Treo 680 Smartphone With Yahoo! Music Package
Palm, Inc. has announced the Treo 680 smartphone, a GSM/GPRS/EDGE quad-band world phone with a built-in MP3 player. The Treo 680 smartphone is easy to use, slim and compact, yet packed full of features beyond its phone capability, such as email, web browsing, messaging, multimedia, calendar, contacts and more. In the coming weeks and months, carriers around the world will announce additional product details, availability and exact pricing.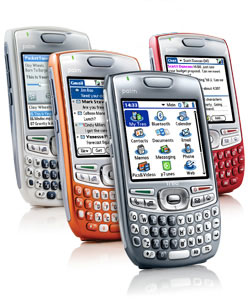 Palm's U.S. retail and online stores will sell exclusively an unlocked GSM version in four new cool colors – crimson, copper, arctic and graphite. For a limited time, they will come complete with a music bundle from Yahoo!, which includes a 30-day free trial to its music service. With Yahoo! Music Unlimited, users have access to more than 1 million songs to take with them anywhere.
The Treo 680 smartphone has an internal antenna and slim form factor, making the device smaller and sleeker than its Treo predecessors in the United States. It has a full, easy-type keyboard, perfect for writing SMS messages and emails, and an optimal 320×320 vibrant color screen for viewing web pages, photos, media and more.
The Treo 680 smartphone has a unique phone user interface that further simplifies Treo innovations, such as the ability to respond to calls with a preset text message and add new phone numbers to existing contact information, and three-way calling. The Treo 680 also has integrated email and web capabilities, so users can stay in touch with colleagues and friends. The messaging application on the Treo 680 displays text-messaging conversations as "threaded chats," similar to IM, so users can see their entire conversation with a particular person. The Treo 680 smartphone also can be used as an MP3 player and has an integrated digital camera, camcorder and video player.
Additional Features:
• Added memory: The Treo 680 smartphone includes 64MB of user-available storage, nearly three times the memory of the original Treo 650 smartphone. Customers can add up to 2GB of storage with expansion cards for those large music or video files
• Enhanced email and messaging: Exchange ActiveSync will now synchronize not only calendar and email, but contacts as well
• SMS and MMS capabilities have been improved for a better user experience
• Improved web browser: The Blazer 4.5 browser is superfast due to its smarter caching rules and includes alternate modes for viewing web pages optimized for the device or as a regular web page
• Enhanced multimedia: Customers can use the Treo 680 smartphone to stream music, play MP3s and manage and share photo albums
• Built-in dial-up networking (DUN) capabilities: Customers can use the new smartphone as a wireless modem via Bluetooth wireless technology to connect to a compatible Bluetooth enabled laptop
• Customers can view, edit and share Microsoft Word and Excel documents on their Treo 680 smartphones in addition to viewing full-featured Adobe PDF files and Microsoft PowerPoint presentations
• Bluetooth 1.2: Customers can connect wirelessly to other Bluetooth enabled devices. The Treo 680 has improved car-kit and headset support, and support for multiple simultaneous Bluetooth connections.
Pricing, carriers and availability have not been announced. More information on the new Palm Treo 680.