DigiTech Announces Next Generation Guitar Processors
DigiTech has announced that it has begun shipping the new RP250 and RP150 modeling guitar processors with a new chipset. Four times as powerful as the previous AudioDNATM processor, the custom made AudioDNA2 is an audio ASIC that provides more accuracy in the tone and dynamic response of the RP models than its predecessor.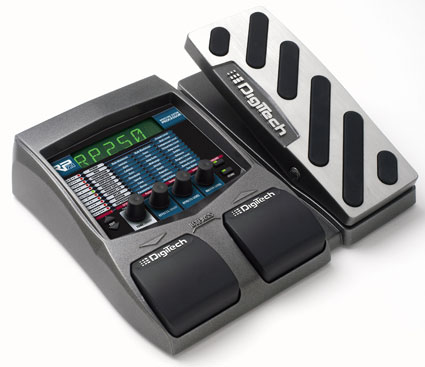 The new RP series offers guitarists a myriad of options for creating and accessing high quality tones of whatever genre of music they play. A new feature, the Tone Library and Effects Library knobs provide quick access to practically every tone and effect in the book. Simply dial in a genre based tone and then select from a variety of effect combinations, adjust the volume and go. The RP250 is also equipped with 60 user and 60 factory presets and the RP150 has 50 user and 50 factory presets, accessed by the up/down footswitches. Finally, for the ultimate tone-tweaker, explore the parameter matrix for unlimited flexibility and edits.
The new RP series comes standard with a built-in drum machine featuring 60 professionally programmed patterns and high quality drum kit sounds. A chromatic tuner with drop-tuning options is also standard, as is five seconds of delay time. USB connectivity provides 2-in/2-out recording capabilities as well as preset editing using the downloadable X-EditTM editor librarian software for PC and Mac. New RP series users are invited to exchange preset tips and share other helpful information in the Sound Community section of www.digitech.com.
The RP250 offers 89 models, with 54 effects models, 21 amp/preamp and acoustic guitar models, and 14 speaker cabinets. Real-time control is provided by two footswitches, four buttons, four encoders, and an integral expression pedal. A six-character LCD provides at-a-glance visibility under the most challenging stage-lighting conditions. The RP150 features a total of 77 models with 48 effects models, 17 amp/preamp and acoustic models and 12 speaker cabinet models.
The RP250 and RP150 are available immediately at authorized DigiTech resellers worldwide. More information on the DigiTech RP250 and RP150.