Korg Reveals MR-1 & MR-1000 Portable Digital Recorders
Korg has unveiled the first 1-bit professional mobile recorders. Seems like every manufacturer is coming out with their own field recorders after Sony's PCM-D1. The MR Professional Mobile Recorders are a solution for source recording, podcasting, broadcast journalism including ENG/EFP, as well as archiving final mixes and master recordings.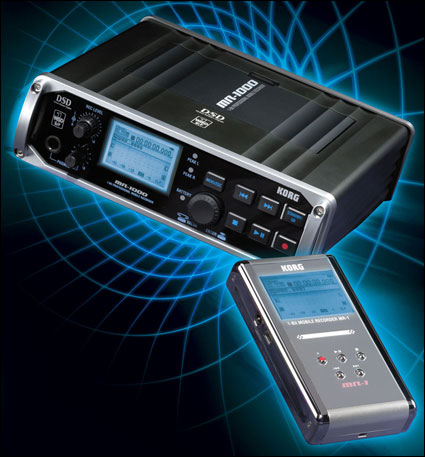 The hand-held MR-1 is capable of high quality 1-bit / 2.8 MHz recording and playback, while the tabletop MR-1000 delivers up to 1-bit / 5.6 MHz, doubling industry DSD recording quality standards. Both MR recorders support multiple recording formats including DSDIFF, DSF and WSD 1-bit formats, as well as multi-bit PCM format (BWF) with resolutions up to 24-bit / 192 kHz.
1-bit recording is the latest advancement in audio and has been adopted for use in the SACD recording format. Its uncompromising fidelity, low noise floor, extended dynamic range, lifelike imaging and analog quality depth have been praised by top experts. Another benefit of the 1-bit format is that it can be converted to any other bit depth and sample rate without error or degradation.
Korg's included AudioGate software (Mac and PC) can convert 1-bit recordings into WAV and AIFF formats at various bit-rates (and vice versa) and offers real-time conversion/playback of 1-bit files. The software can also perform essential functions like removing DC offset, gain control, and fade in/out. Users can easily transfer data from the internal hard drive to a computer via high speed USB 2.0 connection.
Korg USA's Senior Technology Product Manager Jerry Kovarsky explains, "When you have only one chance to capture a great performance, Foley effect or interview, you need a recording device that will reliably yield the highest quality audio possible. Our MR recorders' 1-bit technology provides just that, and combined with our AudioGate software deliver the perfect future-proof solution. Now, with 1-bit recording available at affordable price points, we see a continued growth of this format in various market sectors."
The MR-1000 features studio quality, ultra low-impedance mic preamps with balanced XLR / 1/4″ inputs with phantom power and built-in limiting, plus XLR and RCA outputs. The MR-1 offers dual mini balanced inputs, an included stereo electret condenser mic and a stereo headphone jack.
The portable MR-1 and MR-1000 both feature lightweight yet rugged metal housings with sleek, streamlined designs. A large backlit LCD offers optimum visibility under all lighting conditions. For added durability and location recording, each MR-recorder comes in a stylish and functional soft case that allows the recorder to be used without having to remove it from the case. Both recorders can be powered by batteries (MR-1 – rechargeable lithium polymer; MR-1000 – AA) or via the included AC adaptor.
Prices have not been announced. More information on the Korg MR-1 and MR-1000 portable digital recorders.