ADAM Introduces New Subwoofers
Adam Audio has announced two new subwoofers, the Sub24 and Sub20. These new monitors expand the current line of ADAM subwoofers to include dual-driver, dual-port designs with higher power handling for larger critical listening environments.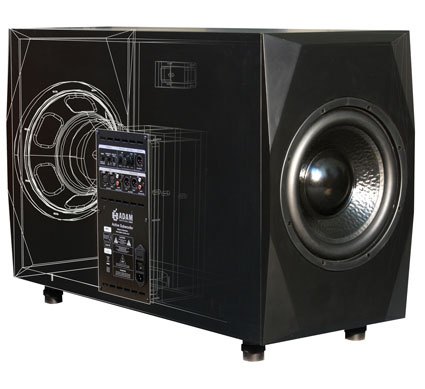 The Sub24 is designed to reproduce LFE or other low frequency signals down to 19 Hz in medium sized or larger control rooms. It is equipped with two long throw 12" drivers that are mounted at the opposite sides of the cabinet. The opposite and symmetrical alignment of forces applied to the cabinet provides much quieter performance than conventional arrays. Distortion is drastically reduced and the clarity of the signal is improved, especially at higher gain levels.
There are two down-firing bass reflex tubes that successfully avoid ventilation noise due to their size and construction. Each woofer has its own amplifier, each capable of delivering 200 Watts continuous/300 Watts peak power to their corresponding drivers. The amplifier's Pulse Width Modulation (PWM) technology provides extremely high efficiency and cool operation in even the most critical levels of performance. Controls include a phase ± 180° switch, level control from -60 dB to +6 dB and a switchable 85 Hz high pass filter for the satellite
output.
The Sub20 applies all of the same design goals of the Sub24 in a more compact cabinet housing two 10" drivers, ideal for medium size listening environments.
Sub24 Specifications:
• Woofer – 2×12"
• Cone Material – Coated Paper
• Free air resonance – 22 Hz
• Power – rms/music 2x200W / 300W
• Frequency response – 19 – 150 Hz (-3dB)
• Variable low pass filter – 50-150 Hz
• THD at 100 dB SPL ≤ 2 %
• Maximum peak SPL at 1m ≥ 124 dB SPL
• Satellite high pass – 85 Hz (switchable)
• Inputs and outputs – XLR symmetrical, RCA non symmetrical
• Input impedance – 10 k
• Weight – 46 kg
• Dimensions – (WxHxD) 35"x 24"x14" (Approx)
• Warranty – 2 years
The Adam Sub20 and Sub24 are available now. The Sub20 costs $2199 and the Sub24 costs $2799. More information on the Adam Sub20 and Sub24