Sanken Announces First Self-Contained Surround Sound Mic
Sanken has announced the WMS-5, a 5-channel Surround microphone self-contained in one mic body. As the newest model in a comprehensive line of microphones for audio recording, HDTV broadcast and film, the Sanken WMS-5 utilizes extensive M-S stereo research conducted in conjunction with Japan's NHK Science and Technical Research Laboratories. The new WMS-5 imicrophone was specifically developed for on location multichannel audio recording.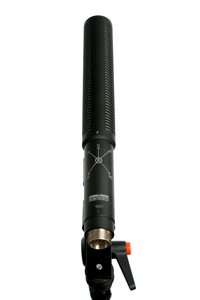 Features:
• 5 outputs (L, C, R, LS, RS) from one microphone
• Lightweight (8.3 oz.)
• Compact size (9.25 inches)
• Precise phase coherent M, S, M capsule design
• Matrix circuitry in mic body
• Complete line of accessories
While surround sound for broadcast and film has become popular, creating realistic multichannel soundtracks in post-production from traditional microphone sources has proven problematic, time consuming, and unnatural. The WMS-5 delivers realistic Surround sound with minimal setup time, and is easily mounted on a camera, boom pole, or pistol grip.
Sanken's WMS-5 delivers reliable, phase coherent 5-channel sound with 5 discrete output signals. The "M" capsule is used for both Center with shotgun directivity and front Left and Right. The "S" signal is utilized for both front Left and Right and rear Left Surround, Right Surround. The rear "M" capsule is used for Left Surround and Right Surround. All capsules are aligned vertically on the same axis for precise phase coherence.
No Pricing has been announced. More information on the Sanken WMS-5.