Microsoft Officially Sets Zune Price
Microsoft revealed that its new 30-gigabyte Zune music player will retail for $249.99, a price matching Apple Computer Inc.'s market-leading iPod when it goes on sale November 14. Songs available for download at the Zune Marketplace service will cost about 99 cents a song, on par with prices at Apple's iTunes, Microsoft said. Each Zune device sold will come preloaded with an array of songs, music video, images and short films.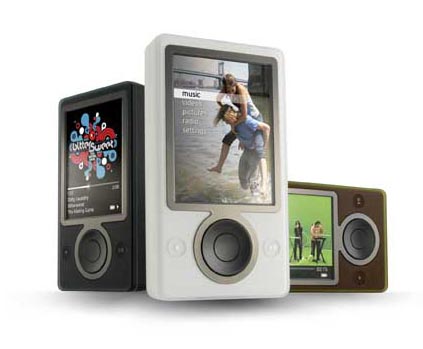 The world's largest software maker faces an uphill climb in trying to topple the popular iPod after conceding a five-year head start to Apple's media player. Contrary to initial reports, Microsoft said it needed to put a comparable price on Zune, even if it meant that the company will suffer a loss from the device's sales this holiday season.
"We had to look at what was in the market and offer a competitive price," said Scott Erickson, Microsoft's senior director of product marketing for Zune. "We're not going to be profitable this holiday but the Zune project is a multiyear strategy." The Redmond, Washington-based software giant has said it plans to invest hundreds of millions of dollars to develop and market the Zune, and acknowledged the investment may take years to bear fruit.
The rectangular Zune media player has a round click wheel and is similar in appearance to the iPod, though slightly bulkier and has a larger 3-inch screen. Unlike the iPod, Microsoft aims to attract users to the Zune's ability to share photos and songs, on a limited basis, to one another. The music player is the first step in creating a new brand of portable devices, according to Microsoft officials, who also said a Zune phone is in the works.
Microsoft said it will sell a music subscription pass for $14.99 a month, allowing users to listen to any of the songs on Zune Marketplace. It pledges to offer 2 million-plus songs at launch. After the pass expires, users will not be able to access those songs. For consumers looking to own a song, the Zune Marketplace will sell tracks for 79 Microsoft points. A user can buy 80 Microsoft points for $1 and points will also be redeemable at its online video game store, Xbox Live Marketplace.
Microsoft said it will initially sell only music at the Zune Marketplace. The company said it was negotiating with the major labels and several large independents. Microsoft hopes to debut a video store in 2007.
The Future: Like Microsoft's XBox strategy, it expects to lose significant money ramping up the Zune vertical. What doesn't make sense is selling the Zune at the same price as the iPod. If you're going to lose cash, why not price the Zune at $50 dollars less than the iPod. At least pose the question to consumers: "If I buy the Zune, I save 50 bucks, and get a larger screen and some Wi-Fi action." At the same price point, it's a no-brainer for someone looking for a portable music player, the answer is the stellar iPod.