WaveArts Updates PowerSuite To Version 5.21
Wave Arts has released Power Suite 5.21, which now includes Universal Binary support for our Mac VST and MAS versions. All our Mac plug-in formats are now Universal Binaries and will work on any Intel based Mac. Power Suite 5 features the following plug-ins:
>>TrackPlug- all-in-one channel strip with 10 band EQ, dual compressors, gate, sidechain EQs, peak limter, and realtime spectrum analyzer (RTA).
>>MasterVerb- classic digital reverb algorithms.
>>MultiDynamics- multiband compression/expansion processing.
>>Panorama- 3-dimensional sound panner with environmental audio effects.
>>FinalPlug- mastering limiter/volume maximizer.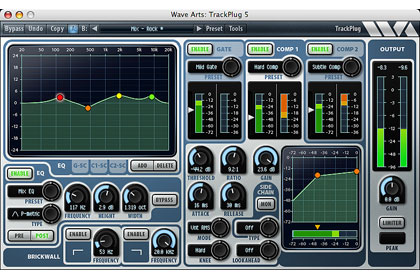 Revisions:
• Universal Binary versions of Mac VST and MAS plug-ins (all Mac plug-ins now UB)
• TrackPlug denormalization improvements to prevent CPU overload
• Fixed crash bug changing presets in MasterVerb under high CPU load
• Fixed sidechain related crashes in Live (Mac)
• Fixed AudioSuite/RTAS Panorama crashing on Mac
• Improved TrackPlug RTA performance (will not run when plug-in window is closed)
• Fixed Panorama mono->stereo error for RTAS Windows
• Fixed Panorama direct preset menu (one preset was named incorrectly)
• Fixed registration infinite loop on Intel Macs
• FinalPlug dither names now display properly
• Improved loading time of GUI (DX versions)
The plug-ins are available in all native formats for Mac OS X (AU/MAS/VST/RTAS, all Universal Binary) and Windows 2000/XP (VST/DX/RTAS). The version 5.21 update is free for existing version 5 users. More information on the PowerSuite 5.21 Update