RealNetworks, SanDisk Announced Partnership
RealNetworks and SanDisk have announced a software/hardware partnership. The deal loads SanDisk's new Sansa's e200 music player with the Rhapsody DNA music management platform built in. Rhapsody DNA makes the e200 players full-fledged clients for Real's Rhapsody music subscription service. Rhapsody relies on RealNetwork's Helix digital rights management technologies and, while Rhapsody DNA can be implemented on devices which support Microsoft's PlaysForSure platform, it doesn't require any Microsoft technology, thus enabling device manufactures to include support for an all-you-can eat music service right out of the box without having to include Microsoft technology – a major bonus for consumers. Real is positioning Rhapsody DNA as a win-win for device makers: the Rhapsody service gets promoted to buyers, and device makers can claim an out-of-the-box service which works seamlessly with their device, increasing their appeal to customers whose expectations have been set by the iPod.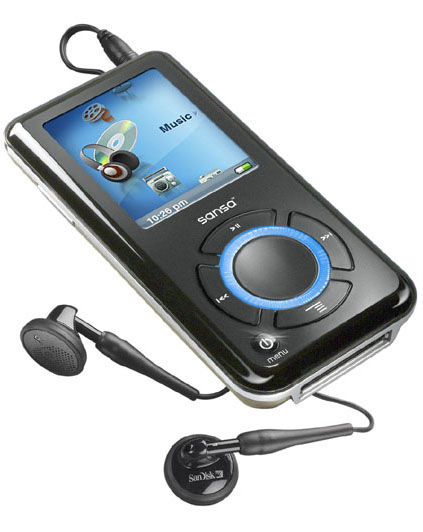 "We're excited to be working with Real to be the first to offer the Rhapsody DNA on our feature-rich, high-capacity Sansa players with the acclaimed Rhapsody service," said Eli Harari, SanDisk's president and CEO, in a release. "This partnership with Real demonstrates SanDisk's commitment to bring consumers an array of options on how they receive and enjoy their music."
SanDisk's e200 line of flash-based music players have been around for a while, and current offer capacities of up to 8 GB in the e280, which users can push to 10 GB with a microSD card. Under the deal, e200 player equipped with Rhapsody DNA will come pre-loaded with almost 32 hours of music from both major and independent record labels; the players will also be able to automatically update with new music based on customer tastes and historical preferences via the Rhapsody subscriptions service.
Rhapsody currently boasts 1.65 million subscribers, making it the leader for subscription-based music download services. Real also recently announcedSonos has embedded support for Rhapsody in Sonos System Software 2.0, and says it is working with several other device makers to build Rhapsody support into more devices.
The SanDisk e200 series music players with embedded Rhapsody support should ship in the United States this fall.