Mophie Introduces iPod Shuffle 2.0 Case
Just a day after the iPod Shuffle 2.0 was announced, the wacky folks at Mophie debuted a new case for the model. Using clear Lexan for protection and the clip for cord management, the Wraptor, is now available via their website. The Wraptor's protective case surrounds the iPod Shuffle and takes its performance to a new levels with its engineered grooves to wrap your headphones around. At same time, Wraptor maintains easy access to Apple's built-in belt clip.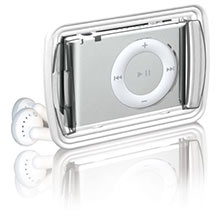 The all new Mueva line is designed to enhance the movement of iPod users on the fly. Wraptor, the first product in the Mueva line, is a sleek case that solves those dreaded headphone dangle knots that every iPod Shuffler is bound to experience.
The Wraptor will be available in October for $14.99. More information on the Wraptor