Tannoy Launches PowerV Speakers
Combining Tannoy's dual-concentric, point-source, constant-directivity, drive-unit technology with an amplifier package integrated within the speaker cabinet, PowerV is aimed at audio professionals who demand uncompromised sound quality and flexibility. By placing the high-frequency drive unit physically inside the low-frequency driver, Tannoy engineers have created a true point source that exhibits constant directivity and linearity.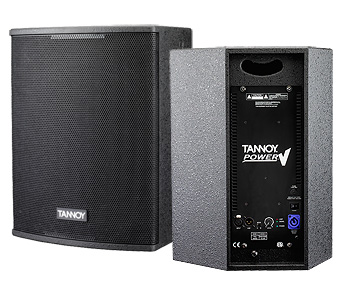 All PowerV loudspeakers are equipped with efficient, flexible and reliable Class-D power amplification incorporating switching power supplies. Little is required in the way of heat sinking, and the only surface area needed for cooling is the small control panel on the rear of the cabinet. Incorporated on the rear panel of the full-range PowerV models is a switch for "Full Range" mode when used as a standalone speaker. Alternatively the "High Pass" switch position provides increased headroom.
More information on the Tannoy PowerV Speakers