Lab.gruppen Unveils FP 13000 World's Most Powerful Amp
The unveiling of the FP 13000 this week at the PLASA Show in London marks the arrival of Lab.gruppen's most powerful commercial touring amplifier ever — the highest rated two-channel, 2U power amp in the world today.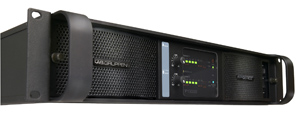 "We are the closest you can get to straight wire with gain," said International head of sales Thomas Mittelman. "We deliver more power over more time than anyone else." Other manufacturers, he says, may offer amazing specs, but fall short of providing rated performance under real world conditions, often dropping down "to fractions of that power, early on, so you end up with a compressor in the wrong part of the signal chain."
The FP 13000, the flagship of the four 2U amplifiers in the FP+ Series, provides two channels of 6,500W at 2 ohms but it is capable of a huge 13kW into 4 ohms bridged-cited by Lab.gruppen as 1kW more than the nearest rival. The FP 10000Q delivers four channels of 2,500W at 2 ohms. The FP 7000 and the FP 6000Q (2 x 3,500W and 4 x 1,500W respectively, both at 2 ohms) complete the quartet.
All models weigh 26.5 lbs. and carry a 6-year, no-questions-asked warranty. Lab.gruppen's proprietary NomadLink control and monitoring network is implemented as standard for the first time in a touring package. Gain is user configurable over a range of 23 to 44 dB (in 3dB steps) and Lab.gruppen's VPL (Voltage Peak Limiting) can be tailored to each individual output's gain and load conditions, to optimize performance while protecting voice coils.
The FP+ Series, due to ship within weeks, combines a refinement of Lab.gruppen's Class TD architecture and Regulated Switch Mode Power Supply know-how to provide "proven reliability with unprecedented power and channel density," requiring half the rack space of the company's previous top end fP Series amplifiers. Tomas Lilja, managing director, Lab.gruppen AB, said, "Extracting more than twice the previously available power from basically the same package size and weight has to be regarded as a considerable achievement." MSRPs are $6,995 and $5,295 for the two-channel FP 13000 and FP 7000 models, $7,295 and $5,895 for the four-channel FP 10000Q and FP 6000Q, respectively.
The Swedish manufacturer will also reveal additions to its C Series installation amp line. Since the introduction of this range 18 months ago, Lab.gruppen has seen around 25 percent growth in its business in terms of output, sales and staff numbers. "We have been asked repeatedly by contractors and specifiers to develop lower powered derivatives of the original C Series," with a higher channel count if possible, while maintaining the fidelity, reliability, features and performance of their siblings," said Michael Jarl Christensen, VP sales, Lab.gruppen. "Now there are eight well defined models in the line I feel we have, so to speak, covered most of the installation-dedicated amplifier bases."
More information on the Lab.gruppen FP 13000 Amp