Digidesign Releases X-Form Time Compression/Expansion/Pitch Plug-In
Digidesign has released X-Form a new time compression/expansion and pitch-shifting AudioSuite plug-in for Pro Tools and Avid DNA systems. Digidesign claims that the new plug-in delivers professional time stretching and formant-correct pitch shifting with professional results, even at extreme settings. X-Form is ideal for music production, sound design, post production, or any other application that requires natural-sounding time stretch and pitch shift processing.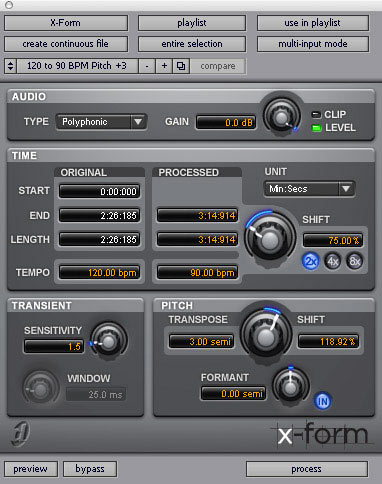 X-Form provides a choice of two time-stretching/pitch-shifting algorithms: the Polyphonic algorithm is ideal for use on complex audio files, such as chords or an entire stereo mix, when working with solo instruments or vocals, choose the Monophonic algorithm. Of course, experimenting with both algorithms is the key to obtaining the perfect effect.
Each algorithm was designed to provide exceptional Sound Quality; capable of preserving proper stereo imaging, attack transients, and timing accuracy—even at extreme settings. With X-Form, you can process files within a mind-blowing range of 12.5 to 800 percent of the original length (1/8 to 8x the original duration). The pitch shifting is equally impressive, allowing you to shift a file up or down three octaves with proper formant correction—even on polyphonic material—so the audio sounds completely natural. How is this possible? The secret is the X-Form plug-in's frequency domain processing, a technology proven more effective than the "frame overlap" algorithms used in most time-stretching products.
Features:
• Professional, flexible time stretching and formant-correct pitch shifting for monophonic and polyphonic audio material
• Minimal controls for simplified workflow and professional results
• Easy-to-read display fields for viewing audio region start and stop times for both processed and unprocessed files in multiple timebase formats
• Pro Tools TCE Trim tool support for increased time stretching/pitch shifting workflow efficiency
• Multichannel and multi-input phase-coherent processing
• Professional time compression/expansion with 12.5- to 800-percent range for processing a file from 1/8 to 8x its original duration
• Professional pitch shifting from three octaves below to three octaves above the original pitch
• AudioSuite file-based processing; supports Pro Tools|HD, Pro Tools LE, Pro Tools M-Powered, and Avid DNA systems
The Digidesign X-Form costs $495. More information on the Digidesign X-Form