Merconnet Releases CS FM 07 MP3 Player
Built-In Wireless FM Transmitter and Card Reader with LCD Display.
We apologize in advance for the poor forthcoming details, but there's not a lot to go on here…
This innovative MP3 player from Merconnet has a clear LCD display, and a card slot that supports SD/MMC card, MP3, USB flash disk, Hard disk, CD/DVD. It has a built-in FM Transmitter for pushing the signal to your car's radio. The versile player allows you to take your music from almost any memory card and listen to it, on your person, in the car or on your home audio.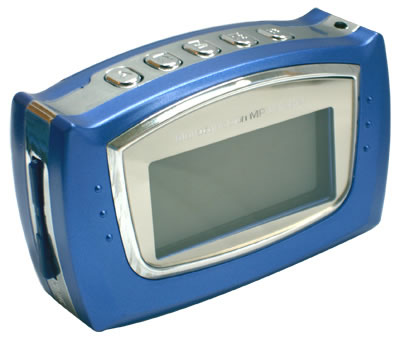 Features:
• LCD display
• Seven FM Radio frequency memory locations
• Mini plug Audio connector
• Plug FM modulator into vehicle's 12 volt adaptor (no idea, either), rechargeable battery (7 AAA).
• Several Colors available
• EQ Modes: jazz, rock, bass, normal, classic
• AC adapter
Specifications:
• Operating Distance: Up to 30 meters.
• Channel Isolation Ratio: ≥72db
• Frequency Range: 20-1500Hz
• Working Current: 180MA
• Preset frequency station: FM87.7 88.9MHz
The Merconnet CS FM 07 MP3 Player costs $60 bucks. More information about the Merconnet CS FM 07 MP3 Player