Go Dance VJ Tool By Belmer Negrillo
Belmer Negrillo has developed the Go Dance, a tool for club VJs to control visuals by the movement of their hands. The prototype consists in a wrist brace, 8 pin-buttons (in fact RFId tags) with icons that identifies basic commands for VJ and a box connected to the computer by USB port.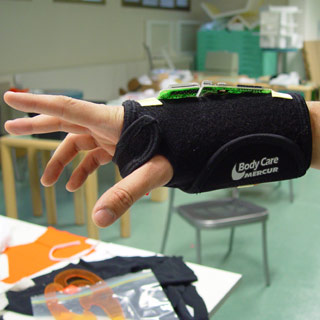 The idea here is to create a tool for the Vjs control remotely, without wires, and with biomechanci gestures the video mixing. A secondary application is to allow people use this same tool in a kind of simpler "user mode" to play with the video in the big screen, without need of previous learning (they will learn "on the fly" by the visual feedbacks).
More information on the Go Dance VJ Glove