Sirius Set To Release Innovative Stiletto 100
Sirius is set to release the Stiletto 100 wearable satellite radio receiver with Wi-Fi connectivity. The Stiletto incorporates several cool features including FM transmitter, MP3 player, satellite receiver and the ability to store 2 GB (approx. 100 hours) of content. It is now available for pre-order via Crutchfield.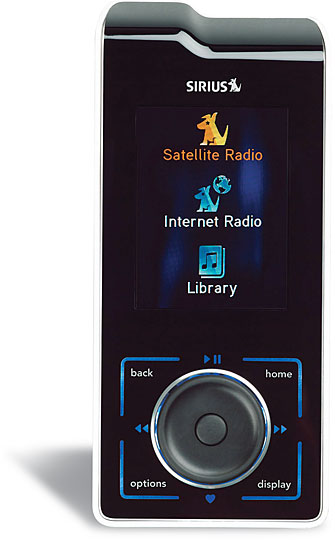 Satellite radio blog Orbitcast, which has been covering the device heavily, pointed to a possible tie-in with Yahoo Music. "Much like the XM+Napster partnership, Yahoo Music integrated in the Stiletto will supposedly give the user the ability to tag a song heard and then allow them to purchase it (presumably when they get within WiFi range)," Orbitcast asserted. According to a Crutchfield features list, the Stiletto also has some TiVo-like functions including the ability to pause and rewind live content.
The Stiletto 100, the first portable player to offer reception of live Sirius signal on the go, plus up to an amazing 100 hours of Sirius programming storage. It offers a full-color display and easy-to-use controls, comes with a slew of useful accessories, and works with optional accessories that expand the number of places and ways you can listen to Sirius.
Features:
• built-in antenna allows portable reception of live Sirius signal
• WiFi capability for streaming channels from the Sirius website
• portable Sirius satellite radio/MP3 player
• stores up to 100 hours of content (2 GB)
• pause and rewind of live Sirius content
• portable playback of MP3s, WMAs, and stored Sirius content
• full-color screen shows channel name and number, artist, song title, and MP3/WMA file names
• slim rechargeable battery with up to 2 hours of live Sirius reception, 4 hours in WiFi mode, and 10 hours of stored-content playback
• extended-life rechargeable battery with up to 4 hours of live Sirius reception, 8 hours in WiFi mode, and 20 hours of stored-content playback
• headphones with built-in antenna included
• earbuds
• My Sirius Studio software for downloading and managing MP3 and WMA files
• 30 channel presets
• built-in wireless FM transmitter "broadcasts" the sound over any FM stereo when used with car or home kit
• indoor AC power adapter for recharging the batteries
• USB cable for uploading digital music files
• 2″W x 4-1/2″H x 11/16″D (with slim battery); 2″W x 4-1/2″H x 1″D (with standard battery)
No official pricing has been announced, but Crutchfield is listing the unit at $400. The Stiletto will be released sometime in September. More information on the Sirius Stiletto 100