Apple Announces New 24″ iMac With Intel Core 2 Duo
Apple announced their fastest iMac ever, the 24-inch iMac, which provides a huge jump in performance along with the all-in-one design. Like its 17-inch and 20-inch siblings, it features the new 64-bit Intel Core 2 Duo processor with speeds ranging from 1.83GHz to 2.33GHz. The new processor delivers up to 50% more performance than the previous 20-inch iMac. It also doubles the amount of L2 cache, the twin cores sharing 4MB between them.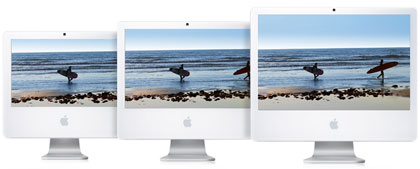 New displays are also incorporated into the lineup. With excellent color saturation, all three models feature a cinematic 16:10 wide aspect ratio that's perfect for watching movies. And iMac delivers a beautifully bright display with the new 24-inch model lighting the way. In fact, it's a full 40% brighter than the 20-inch model.
The new iMac 24″ costs $1999. More information on the new 24″ iMac