Peavey Releases SP 5.5P Loudspeaker
Peavey has released the SP 5.5P, an updated and powered version of its SP 5 loudspeaker enclosure. The SP 5.5P features a 15-inch Peavey Black Widow loudspeaker with a 4-inch voice coil and field-replaceable basket. These enclosures also feature RXTM 22 compression drivers with ferrofluid cooling and patented Quadratic Throat Waveguide technology, said to yield reduced horn distortion and clearer sound. In addition, the horn's asymmetrical design projects the sound down to the audience.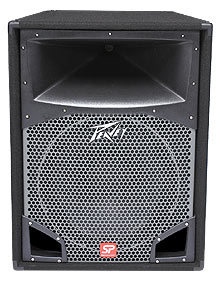 The power section features a biamplified, 1,000-watt power amplifier with Peavey's DDT speaker protection, 1/4-inch and Neutrik Speakon I/O and a Loop In/Out jack for daisy-chaining multiple units. Nine-ply Baltic birch construction utilizing extensive internal bracing "produces far tighter bass response than plastic speaker boxes, especially below 200 Hz." The SP 5.5P also includes built-in stand-mount adapters and black-carpet covering.
Features:
• Bi-amplified, self-powered system w/ 1000 Watts peak power
• DDT compression in both amps
• 1508-4 SPS 15″ BWX Black Widow woofer
• RX 22 compression driver
• Patented Quadratic Throat Waveguide technology
• XLR balanced line inputs (F/M) & 1/4″ TRS
• Seperate mixed mic XLR-F input
• Loop in/out jacks
• Trapezoidal Baltic Birch enclosure
• Carpet covered
• Stand mount adapter
Specifications:
• Dimensions 20.6″ W x 28.5″ H x 17″ D (Unpacked)
• Weight 69 lbs.
The Peavey SP 5.5P enclosure will be available in Q3 2006 for $$949.99. More information on the Peavey SP 5.5P Loudspeaker