Modartt Announces Pianoteq
Modartt announced Pianoteq, a new modelled piano plug-in in VST/AU formats for Windows and Mac OS X. Being a truly modelled piano, the sound is created in real time from scratch through a sophisticated mathematical model, simulating an acoustic piano. It is responding to how the pianist is striking each key and how strings are interacting, just like a real piano does, resulting in an expressive and vivid instrument.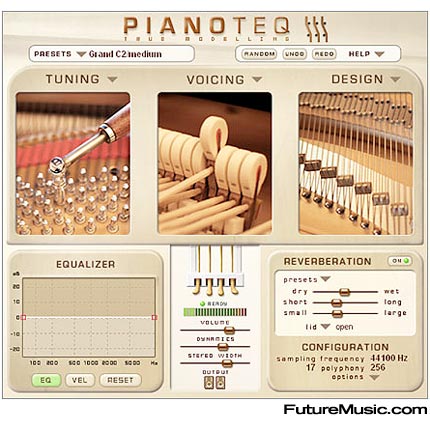 The first generation of pianos began with Cristofori's pianoforte in 1698 which came to maturity at the end of the 19 century with the acoustic grand pianos. It was followed in the 20 century by the second generation electro-acoustic pianos and the third generation sampled pianos where each note is a recording of how it sounded during a specific moment in time, not taking into account the complexity of the instrument.
According to Modartt, Pianoteq is the first and only piano belonging to the fourth generation, developed in order to go beyond the limitations of the third generation and to become a versatile and innovating tool. Everything that characterizes an acoustic piano is included: the mechanic noises (optional), the complexity of pedals and strings in interaction, the percussion impact on staccato play, and the beauty of the piano sound. New possibilities: The unique adjustable parameters result in great realism and even allow going beyond the material constraints of an acoustic piano, thus being able to create new instruments and sounds. System friendly: Pianoteq adapts dynamically its CPU consumption to the resources available on your computer.
Feature Highlights:
• Responds in real time to pianist's interpretation.
• Sounds and behaves just like a real piano.
• Offers playability and expressiveness.
• Advanced parameters for tuning, voicing and soundboard adjustment.
• Small (7 MB) and fast.
Pianoteq is available for Windows and Mac OS X in VST and AU plug-in formats and costs €249. A demo version is also available. More information on Pianoteq