Archos Unveils New Portable Music/Video Players
Archos has introduced the 404 and 604 players which feature 30GB storage capacity, large screens and an ultraslim profile. Both products feature 30GB storage capacity and hold up to 85 movies, 130 hours of TV, 300,000 photos, or 15,000 songs.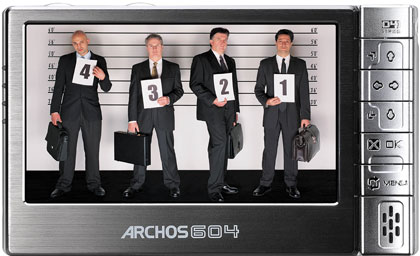 As a part of the new Archos Generation 4 line, the 404 and 604 share a sleek metallic silver casing and new animated graphical interface. The redesigned right-side button layout provides ease of operation and the user interface is more intuitive than ever before making navigating through video, music, photo and document files a painless process.
The optional DVR Station accessory (UK SRP £69.99) turns the 404 and 604 into portable digital video recorders, with high-quality audio/video outputs that allow scheduled or one touch recording of favorite movies and programming from the television, DVD player2 or cable box directly onto the device.
The ARCHOS 404 and 604 also feature the brightest screens in the industry, offering more than 16 million colors.
Features:
• Large, Clear, Angle View Screens: The new Generation 4 screens make it easy for two people to watch thanks to the screen's incredibly bright contrast, 720×480 playback, and more than 16 million colours.
• Broadest Range of Video Formats: The new products support MPEG-4 ASP3 and WMV4 in full D1 resolution and can read MPEG-4 AVC/H.2645 (MP4 QuickTime files), MPEG-26, and VOB6 with optional software plug-ins.
• DVD Quality Video Playback: Viewing content from the device onto a television is even better in DVD quality.
• Music-Enhanced Photo Slideshows: Enhanced photo slideshows now include music and transition effects.
• PDF Viewer. For the first time, view PDF documents on the device.
• Optional DVR Station for Television Recording: Add extra features such as direct recording from a television, DVD player, cable box or satellite receiver with the DVR Station.
• Optional Docking Adapter for Quick Charge and Data Transfer: Use the optional Docking Adapter to quickly charge the battery and transfer music, video, photos and files from the PC or Macintosh – without using a computer.
• Optional Video Cable for Television Play-Back: Plug in the A/V Cable to view video and photos from the device to a television in high quality.
• Optional Travel Accessories: A new range of convenient travel accessories includes replaceable batteries, chargers, travel and protective cases, portable speakers, DVR Travel Adapter for recording content on the go and hands-free video filming with the Helmet Camcorder.
The 404 is one of the thinnest and most affordable portable video players on the market today at only 1.5 cm thick. The 404 measures only 10 x 7.7 x 1.5 cm and weighs 190 grams, yet boasts a large 3.5-inch colour LCD screen. The 604 features an extra sharp 4.3-inch, wide-screen display, removable battery and kick-stand for easy tabletop viewing. The 604 measures only 13 x 7.8 x 1.6 cm and weighs 250 grams.
The new Archos 404 and 604 Video Players Feature 30GB Storage Capacity, Sleek New Designs, Large Screens, Easy Navigation, and a Modular Strategy for Customizing with Accessories. The Archos 404 costs $299 and the 604 costs $349. More information on the Archos 404 and 604