New Faderfox Controllers Announced
Faderfox has announced the second generation of their handmade MIDI controllers for DJs and electronic musicians. Faderfox also revealed that the controllers, which have only been available in limited supply in Europe, now have a North American distributor. The ingenious, over-the-keyboard design remains, but the new units have been revamped to meet the ever-evolving needs of Ableton Live and Native Instruments Traktor users.
micromodul DJ2
The micromodul DJ2 is Faderfox's second generation DJ controller for computer-based mixing programs, however it is optimized for use with Native Instrument's popular Traktor DJ Studio. The DJ2 offers all the pertinent attributes for controlling two virtual decks, including faders, EQ, crossfaders and FX buttons. A joystick allows the DJ to control two different MIDI parameters simultaneously. Using the setup files, you can use the DJ2 right out of the box with Traktor 2.1 or later.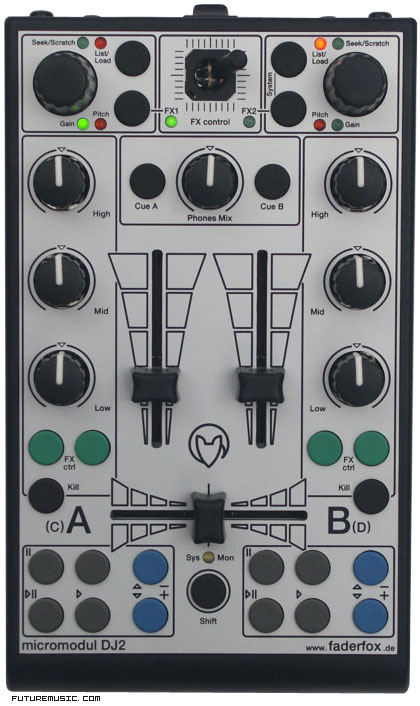 While the DJ2 offers all main functions, the DX2 extends the functionality with additional buttons for loop control, a full FX section (4 pots + 4 buttons) and 5 encoders for pitching/seek/scratch/list/load. Use two devices DJ2+DX2 if you want to play a four-deck-set with Traktor DJ Studio 3.0 by chaining the devices via MIDI. More!
Read the entire New Faderfox Controllers Announced story at Digihear? Music News