Channel D Software Announces Pure Vinyl 1.1.2
Channel D Software announced the release of Pure Vinyl 1.1.2, a Universal Binary suite of audio applications designed specifically for the digital encoding and playback of vinyl LP records. The Pure Vinyl Recorder application was designed specifically for creating high-resolution, archival quality transcriptions of vinyl records at sample rates and resolutions up to 192 kHz / 32 bit.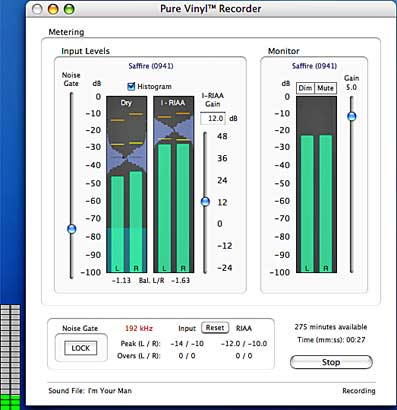 The high sample rate recorded audio can be saved without vinyl EQ, which can be applied later during playback, for a accurate listening experience that is the same as the very first time the vinyl was transcribed. With the DSP EQ, the distortion and analog component tolerances of hardware EQ networks are removed from the process reportedly allowing for better sound quality.
Pure Vinyl incorporates features to streamline the tedious task of Peak Detection, Normalization and Pop and Click Removal. Iconic overlays applied to the vinyl image accurately depict audible blemishes and then interpolation and sample cloning can be used to clean them. The built-in peak finder automatically sets proper normalization levels.
Pure Vinyl combines a fun and intuitive scratch style grab-and-spin editor with realistic, virtual vinyl platter images, rendered from the digitized audio. Automatic gain riding and looping insures accurate track location, even in the presence of vinyl background noise.
A free, built-in visualizer feature fetches tracks from iTunes playlists and creates an entertaining animation of spinning, "45 RPM" vinyl discs.
Features:
• Digital LP Conversion, Archival and Playback Software
• 192 kHz 24 bit Sampling
• Pristine, 64 bit Double Precision Floating-Point Internal Signal Path for No Added Distortion
• Extremely Accurate Vinyl Equalization with Perfect Channel Match
• Continuous, Gap-Free Playback Capability Respects Original Album Format
• Unique "Scratch" Style Grab and Spin Track Editor plus High Quality Resampling for Exporting Tracks to Digital Players (iTunes, iPod, CD-R)
Pure Vinyl is for Mac OS X 10.4, and priced at an introductory price of $129.00 until September, when the price goes up to $329.00. More information on the Channel D Pure Vinyl 1.1.2 vinyl to digital software