Audio Damage Releases Reverence
Audio Damage has released Reverence, a plate reverb simulation inspired by vintage digital hardware. Reverence reportedly recreates the thick sonic character and easy to use interface of those early units, while providing the low noise floor and big headroom inherent in modern software based reverb.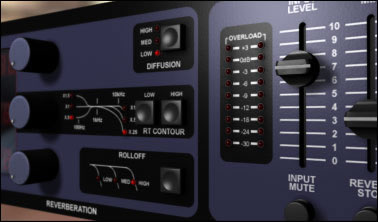 Reverence is also capable of creating the unusual effects that are typical of vintage hardware units. Featuring a sophisticated and well-tuned reverb algorithm, Reverence has a much lower CPU load than convolution reverbs, and can be used as either a send or insert effect.
Features:
• Simple-to-use reverb settings, with pre-delay, time, and size, plus an extensive filtering section to shape the reverb tail
• Fluid and logical vintage-style user interface
• Optimized reverb algorithm for low CPU load
• MIDI Learn feature for full hardware control of all parameters (VST only; handled by host in AudioUnits version)
Reverence is available as a VST effect for Windows, and as an AudioUnit / VST effect bundle for OSX Universal Binary. You must have OSX 10.3.9 or greater to use this plug-in.
Reverence costs $39. More information on Audio Damage Reverence