Sonic Studio Ships SoundBlade
Sonic Studio is shipping soundBlade, a general purpose production tool, designed to record, edit, process, restore and deliver audio on CD, DDP, or as AIFF, WAV or BWF files for further processing. First shown at the AES Convention in Paris in May, Sonic Studio is positioning soundBlade as a mastering solution.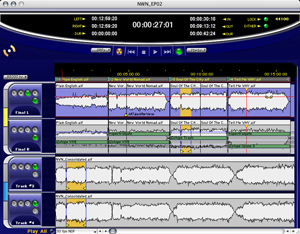 soundBlade runs natively on Mac OS X, and relies on Core Audio for default I/O so hardware lock-in is eliminated. For in-depth signal manipulation, soundBlade offers AU and VST plug-in support, and either type can be used in any order in the signal path. The application also combines Sonic Studio's EFM and 4 point editing capabilities with their SSE real time audio engine and optional, accelerated DSP processing.
soundBlade retails for $1,495. More information on Sonic Studio SoundBlade