Alienware Unleashes New Desktop Chassis & Intel Core 2 Duo Processors
Alienware has introduced the breakthrough new Alienware P2 Full-Tower Case on select desktop systems, including the Area-51 7500, Area-51 ALX, Aurora 7500, and Aurora ALX. The Area-51 7500 and Area-51 ALX feature the new Intel Core 2 Extreme and Intel Core 2 Duo processors. In addition, select Alienware notebooks, including the popular new Area-51 m5750 and Area-51 m5550, will be powered by the new Intel Core 2 Duo mobile processor when it becomes available later in third quarter.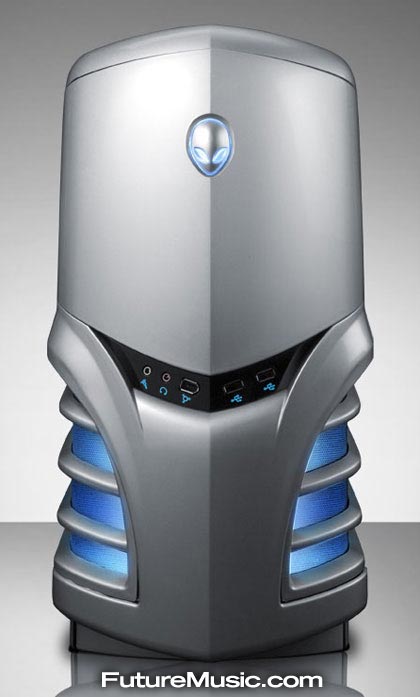 The incredibly bold new Alienware P2 Full-Tower Case builds upon the stylish legacy of the previous-generation Alienware desktop chassis while delivering numerous improvements that enrich the ownership experience for power users:
• Illuminated front and side Alienware badges, I/O port icons, external drive bays, and front air intakes that takes it cue from high-performance race cars
• Stunning AlienFX lighting functionality that allows users to customize lighting color and brightness from a full color spectrum range using a user-friendly software application
• More space-friendly than the previous generation Alienware chassis without compromising future system expansion
• FireWire, USB 2.0 and audio ports now conveniently located in the front of the chassis to allow effortless connection of external devices
• Power button integrated with front Alienware badge so users no longer have to open the case's front door to power the system
• Improved airflow and more effective system cooling reduce noise levels
• Tool-less access to interior for quick and easy upgrading
• Exclusive chrome front air intake grills and accents on the ALX version of the case for the ultimate statement in power and style
• Alienware users have the opportunity to configure their newly-designed desktops with the Intel Core 2 Extreme and Intel Core 2 Duo processors, which are based on advanced Intel Core Microarchitecture.
The Core 2 Extreme processor, Intel's highest performing desktop processor ever, offers enhanced multi-tasking responsiveness while delivering the most realistic gaming experience possible. The Core 2 Duo maximizes both performance and energy efficiency, running at cooler temperatures and providing a dramatic performance increase over previous single and dual-core Intel processors.
"Four years ago, Alienware embarked on revolutionizing the look of the desktop PC and succeeded with the launch of the first ever Alienware Full-Tower Case," said Mark Vena, Vice President of Marketing at Alienware. "The next generation Alienware P2 Full-Tower Case answers our customers dreams and desires for an electrifying new design and user experience."
To further maximize the performance of its top desktop systems, Alienware has paired the Core 2 Extreme and Core 2 Duo processors with NVIDIA SLI technology. NVIDIA SLI multi-GPU solutions provide consumers with a remarkably immersive visual experience while playing the latest games and running graphics-intensive applications.
More information on the new Alienware Chassis and Intel Core 2 Duo