Pioneer Europe Reveals New DVJ-1000 DVD DJ Deck
Pioneer has unveiled the DVJ-1000 which combines the CD capabilities of the CDJ-1000 series with the ability to deliver sensational DVJ sets by synchronizing visuals and audio through DVD. With a similar footprint to the CDJ-1000MK3 and more economical pricing, the DVJ-1000 will attract buyers of high-end CD decks and those who aspire to own the DVJ-X1, for creating imaginative and engaging visual sets.
 
The Pioneer DVJ-1000's features include: MP3 compatibility with file browser, a brighter and larger waveform display, studio quality 96 kHz/24-bit audio and several new innovations like 4X hyper jog mode and a back and forth loop button. It can play both NTSC and PAL DVDs using a built-in standards converter. With the same operation and standard layout as the CDJ-1000MK3, DJs can perform audio-only sets while having the option to mix DVD with a powerful and versatile range of effects on hand.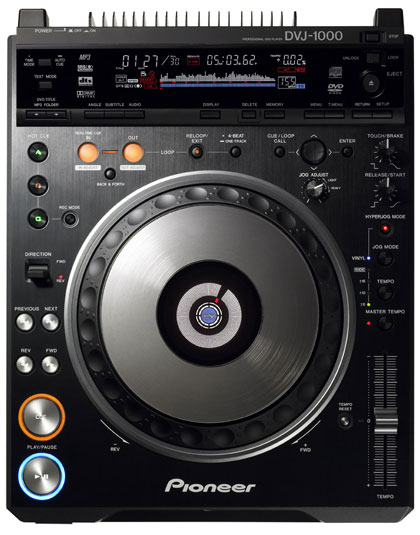 Features:
It includes JOG feeling adjustment that tailors the deck to performers' individual styles and retains the familiar look and feel of the CDJ-1000MK3 with pitch control, cues and loops executed in the same intuitive fashion.
 
• Formats and MP3 Navigation
The deck supports CD (CD-R/RW) and DVD (DVD-R/RW) media and performers who work with DVD in Europe and the States will value the convenience of built-in PAL/NTSC compatibility. The DVJ-1000 sets a new benchmark for music portability – up to 1,000 MP3 tracks can be accessed on DVD-ROM – and provides the most advanced deck for working with this ever-popular format. When connected to a preview monitor, the MP3 Navigator makes track selection a breeze: the information is displayed on a larger screen, DJs can search for music by file and up to eight subfolders (for example, genre of music, artist, track) and seven lines of text are available. For ease, a cursor button is included on the deck to scroll through and select files.
 
• Track information
DJs also receive more information from the Preview Output Display. This enhanced feature provides an extensive dashboard (through a preview monitor) that displays key information for DVD, CD and MP3 including: DVD content, WAVE, title, artist, album, main cue points and three hot cue points. The DVJ-1000 retains the recent display improvements to the CDJ-1000MK3. The 360˚ On-Jog Display is improved by being raised on the wheel and lit fluorescently, the cue marker is larger and the 45˚ angle marks make it easier for scratch DJs to time their effects. The track display's resolution has been doubled and the lighting is multicolour and fluorescent, while the waveform data and playing address data encompass a complete track.
 
• Studio quality sound
With its 96 kHz/24-bit audio, the DVJ-1000 will be used by studios, producers and artists who have the option of outputting their tracks in optimum clarity. Another feature that appeals to music professionals is Pioneer's Legato Link Pro. This digital filter applies up-sampling technology to reproduce audio information lost in some disc formats (DVD: 48 kHz \ 192 kHz; CD: 44.1 kHz \ 176.4 kHz).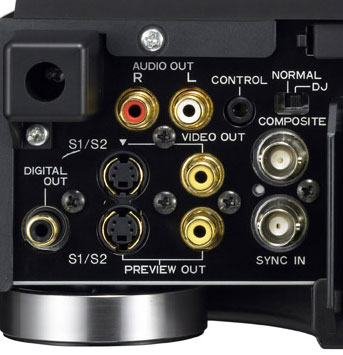 • Performance loops
A new back and forth loop button allows seamless looping in four sequential steps forwards and backwards; it's a creative feature that also reproduces a smooth progression of audio and images by removing jitter. Further original developments include the one-track chapter seamless loop (the track is looped continuously when the button is pressed for a second), a 4-beat loop button (provides automatic 4-beat looping without needing to select the out point), an adjustable loop in point and the back lighting of the re-loop button. For DVJs who use short video clips, the one-track loop button is a convenient feature – it repeatedly plays back the content.
 
• Fast search
A new 4X speed hyper jog mode has been created to support rapid searching. This also accelerates the speed at which video and audio can be scratched to extend creativity. The search facilities are complemented by a new manual search facility using the Jog Wheel (at up to 160X speed) and the WAVE display to locate tracks.
 
• Additional features
As with the CDJ-1000MK3, gold RCA connectors are included and the deck also has a digital out to ensure the highest level of sonic purity when connected to the DJM-1000 or DJM-800 digital mixer series, for example. In addition, the deck includes a resume play function to restart playing from the same point if a CD or DVD is ejected accidentally.
 
More information on the Pioneer DVJ-1000