eJamming Studio Adds Social Networking
eJamming, Inc., inventors of the online music collaboration/synchronization service, announced eJamming Studio 1.5, now has social networking capabilities. With searchable Musician Profiles, JamVite instant messaging and Jam Scheduler automatic calendar, as well as automated access through firewalls and routers, the eJamming Studio makes it easier for digital musicians to find, schedule jam sessions and connect with others over the Internet. eJamming Studio is the only online service that allows musicians using MIDI-enabled instruments to write, rehearse and play music together in real time — even if they're thousands of miles apart.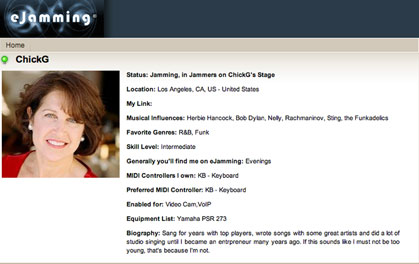 eJamming's social networking provides easier, more effective ways to identify and connect with potential collaborators. With eJamming Musician Profiles, users can review player musical influences, styles, instrument preferences and location from both the eJamming Studio and the eJamming website. JamVites provide a way to invite other musicians to join in writing or jam sessions, and the Jam Scheduler keeps track of session dates, times and players involved, as well as public hosted online get-togethers.
eJamming Studio solves router/firewall connectivity issues by using Universal Plug and Play (UPnP) and NAT negotiation techniques to automate opening and closing ports for each eJamming session, getting musicians connected faster and easier. eJamming Studio's new Connection Doctor aids users in fixing remaining connection problems.
A monthly subscription to eJamming costs $14.95, and a Day Pass costs $4.95. More information on eJamming