Psychic Modulation Releases Aethereal
Psychic Modulation has released Aethereal, an ambient vector synth equipped with several atmospheric sounds, tones and FX for creating evolving soundscapes and textures. The sounds, which are in the form of four wave oscillators can be mixed between using a sophisticated 4-Way TransMixer, either manually, with Auto-Modulation or in a set transition from one sound to the next.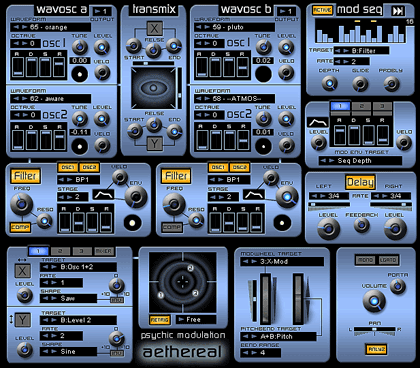 Other modulation options include a Multi-Vector, which uses three X/Y position points to modulate various parameters, a 16-Step Mod-Sequencer, three modulation envelopes, plus assignable pitchbend and modwheel, making Aethereal a flexible and expressive ambient synthesizer with many possibilities.
Features:
• Over 100 built-in sounds such as synth tones, atmospheres, vocal pads and sound FX
• Four wave oscillators with independent amp envelopes; the oscillators are divided into two sections that can be routed to separate audio output channels
• 4-Way TransMixer for making set transitions from one sound to another; can also be used for manual or automatic mixing
• Multi-Vector for modulating various parameters in an X/Y path.
• Auto-Modulation section for automatic control of the Multi-Vector as well as the TransMixer (modulation equivalent of 8 LFOs)
• 16-Step Modulation Sequencer – For sequenced modulation of pitch and filters.
• Two filter sections, each with independent envelopes, inverters, gain compensation and multiple stages (1-4)
• Three modulation envelopes
• Dual Stereo Delay section
• Assignable pitchbend and modwheel
• 64 presets
Aethereal costs $24.95 and is available for Windows as a VSTi. More information about Psychic Modulation Aethereal