Fretted Synth Audio Releases Free Amp 2
Fretted Synth has released Free Amp 2, an update to their Virtual guitar setup. A new advanced Graphical User Interface has been designed by Rick Christy and a new built-in guitar synth, Guitsyn, has been incorporated into this release.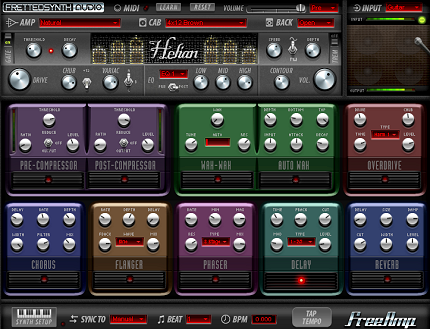 Highlights:
• Choose from seven different amps types.
• Seven different eq's, all have there own controls for comparison.
• Six speakers, plus bypass, adjustable by the mic placement.
• Separate MIDI volume control, can be placed pre or post amp.
• Host Sync and Tap Tempo for Tremolo and Delay
• Noise gate.
• Tremolo, Triangle and square modulators.
• Two compressors, pre and post amp.
• Wah can operate by MIDI CC, plus has auto features.
• Drive pedal, with a choice of seven overdrive types.
• Chorus with added filter.
• Phase Shifter
• Delay and Reverb
• 128 factory presets.
Version 2.0 adds:
• Flanger.
• Guitsyn, a built-in guitar synth.
• Reduced CPU uses by another 30%
• Tweaked overall tone.
• 128 new presets.
Free Amp 2 is a free download. More information about Fretted Synth Audio Free Amp 2