Mackie Now Shipping Satellite Recording System and Onyx 4-Bus Mixers
Mackie announced that its new Onyx 4-Bus Series Live Sound mixers and Satellite FireWire Recording System are now available in the U.S. through authorized Mackie dealers. Mackie's new Onyx 24.4 and 32.4 Premium Live Sound mixers bring the sound quality of the premium Onyx range to the world of mid-format live mixers, effectively filling the gap between the Onyx small-format and 8-bus Onyx 80 Series large-format live consoles. The Mackie Satellite FireWire Recording System features a two-part audio interface designed to work equally well for both on-location and studio recording.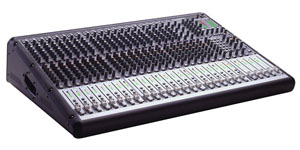 The Onyx 4-bus Series mid-format consoles incorporate a host of new features like a full complement of Mackie's flagship Onyx preamps, a fully balanced signal chain for lower noise and wider frequency range, as well as Mackie's exclusive Cal Perkins-designed four-band EQ circuitry, renowned for its highly musical "British" sound and wider-range control
Both Onyx 4-Bus consoles also feature a 6×2 matrix, 100mm Panasonic faders, and a fully assignable stereo compressor/limiter section built upon the high-quality THAT 4301 chip. This compressor/limiter features independent threshold, ratio and fast/slow attack controls, and can be assigned to the main output mix, Groups 1 and 2, or Groups 3 and 4.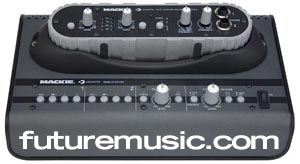 At the heart of the Mackie Satellite FireWire Recording System is the Satellite Pod, a sleek, portable two-channel FireWire interface that incorporates two of Mackie's acclaimed Onyx preamps, as well as 24-bit/96kHz A/D and D/A converters. The Satellite Pod also features dual headphone/control room outputs with individual level controls, two inputs, two outputs, and a rugged portable design.
The other half of the Satellite System is the Satellite Base Station, which the Satellite Pod snaps into to provide AC power, additional I/O, talkback and monitor switching functions. By plugging the Satellite Pod into the base station, the Satellite System becomes a two-input, six-output FireWire audio interface with professional features such as an advanced routing matrix, built-in talkback microphone, advanced monitoring functions and surround speaker control.
The Satellite System's two inputs can be switched between mic, instrument or balanced line input sources, and its six-channel volume control provides for surround sound mixing. Its control room section provides for switching between two separate monitor outputs for multiple monitor speaker setups.
Both Mac and PC compatible, the Satellite System works with all ASIO and Core Audio compatible software. It comes bundled with a full version of Mackie's award-winning Tracktion 2 software, providing a complete out-of-the-box recording setup with professional features like a 64-bit high-definition mix engine, unlimited track count, ReWire and VST support, MIDI controller mapping, external synchronization, and integrated support for Mackie Control Universal and C4 control surfaces. Also included is a full set of Mackie's Mixing and Mastering plug-ins.
The Mackie Onyx 24.4 and Onyx 32.4 have MSRPs of $1849.99 and $2599.99 respectively. The Mackie Satellite FireWire Recording System has a suggested retail price of $519.99 and will be on display at the NAMM Convention in Austin this weekend. More information on the Mackie Onyx 24.4 and Onyx 32.4 – Mackie Satellite FireWire Recording System