Furman Announces SPB-8C Stereo Pedal Board
Furman Sound announced the SPB-8C stereo pedal board featuring a hardshell case, more outlets, completely isolated jacks, and ultra low-noise performance for professional musicians. With robust construction, the SPB-8C is built to take a beating while still maintaining optimum performance. The durable pedal board consists of a rugged, yet light polycarbonate platform with an extruded aluminum chassis and a 13.75-inch by 26.75-inch Velcro sheet. This construction ensures secure, non-slip performance for many effects boxes and pedals.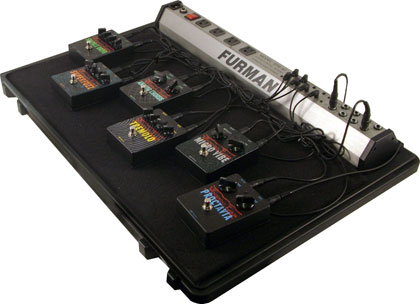 The SPB-8C's stereo patch bay contains eight inch switching phone jacks featuring sturdy metal brushings, connected in two stereo loops, allowing a single guitar or instrument input to feed multiple mono and stereo effects boxes, send and return from remote effects, and feed up to two amplifiers simultaneously.
The new pedal board offers two levels of surge and short circuit protection, in addition to Furman's standard level of RFI/EMI filtering, to provide a clean, noiseless signal. The SPB-8C powers DC pedals without hum by utilizing a high-quality toroid transformer. Each DC output is rated at 120 mA, and is individually protected against shorts, guaranteeing that if one output fails, the remaining will continue to function. In addition, the DC outputs are individually isolated, which completely eliminates noisy ground loops. The board also includes four AC outlets, spaced widely enough to accommodate bulky wall wart transformers.
The SPB-8C features a new durable hardshell case which is large enough to accommodate the pedal board and all attached effects, allowing the musician to keep all pedals and stompboxes connected instead of having to reconstruct at each gig. A retractable handle and inline skate wheels allow for easy transport, while heavy-duty latches ensure the case will remain securely closed when not in use, making the SPB-8C the most easily portable pedal board on the market.
No Price has been announced.