TestDrive: Ultimate Ears Super.fi 5 Pro
Due to the iPod's enormous popularity, the earphone market has exploded. The sheer amount of offerings can be daunting to someone in the market for a quality set of earphones. Last December, we reviewed two of the best earphones currently available in a Head2Head shootout, the Shure E5C and the Etymotic ER-4P. However, a new contender has emerged who has its eyes firmly set on the crown.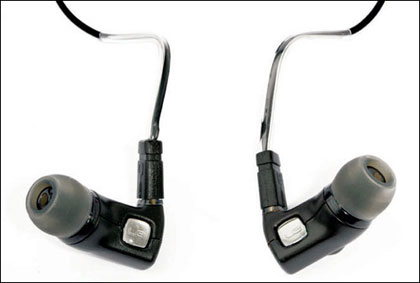 Usually the arrival of yet another set of earphones in our mailbox doesn't cause much of a stir in our offices, but the super.fi 5 Pro earphones by Ultimate Ears caused a quite a sensation. I was the first to get my grubby hands on the sleek metal case that housed the super.fi Pro's and the multitude of accessories that came along for the ride. The first thing I noticed was that the super.fi 5 Pro's were an around the ear model like the Shure E5C's, a design that I'm certainly not a fan of. In our Shure VS. Etymotic cage match, I thought that the Shure's were uncomfortable and somewhat unwieldy for the $500 entry fee. However, when I strapped on the super.fi 5 Pro's, I was pleasantly surprised. They fit snuggly into my ear canal without any drama and the around-the-ear design was very comfortable. More…
Read the full Ultimate Ears Super.fi 5 Pro Review in our TestDrive section.