MuTools Readies Luna 2
MuTools is offering a pre-release of Luna their alternative, ultra-light virtual music studio, designed to compose and perform music. The program was designed to be very intuitive, stable and easy to use so that musicians new to the computer platform can get right to work.
Luna comes in two flavors: Luna Free andf Luna Unlimited. Luna Free is free to download and offers a reduced feature set. Luna Unlimited at the other hand supports an unlimited number of VSTis and Mixer Strips. Click here to see the differences.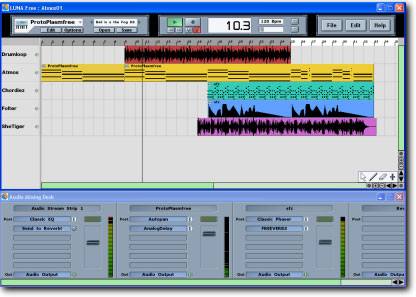 Luna's core feature list:
• Audio Recording and Playback
• MIDI Recording and Playback
• Composition and Sequence Editing
• Effect and Instrument VST Plugins
• Powerful Audio Mixing Desk
• Audio Engine using 32 bit floats, almost any samplerate
• Sample accurate sequencing
• Multi Undo/Redo
Luna runs on both OSX (Core Audio) and Windows (ASIO) and is available for 29 € More information on MuTools Luna