Solid State Logic Now Shipping Duende
Solid State Logic (SSL) is now shipping Duende, a new addition to its growing family of products for digital audio workstation users. Based on the powerful DSP technology behind SSL's C-Series digital consoles, Duende is a sleek, 19″ rack-mount unit that seamlessly integrates console-grade SSL Channel and Dynamics processing with a digital audio workstation. On-board DSP runs SSL processing, relieving the burden on the host computer's CPU.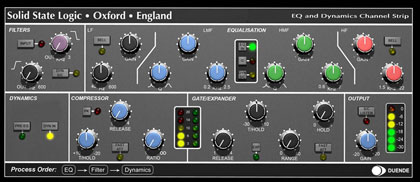 Duende allows for up to 32 channels of processing at sample rates up to 96khz. The EQ and Dynamics Channel provides a single plug-in slot EQ and Dynamics processing solution with all the power and processing flexibility of an SSL console channel.
Key features include:
• 4-band EQ, two shelving sections and two parametric
• Variable low-pass and high-pass filter
• Switchable EQ characteristics between E Series and G Series EQ
• "Over-Easy" soft ratio compression characteristic for smooth transitions
• Variable process order routing
• Dynamics side-chain processing with independent side chains for compressor and expander/gate
The Duende Bus Compressor delivers the punch and drive of the classic SSL Master Bus Compressor, a key element of many legendary recordings. Duende offers complete integration into the most popular workstation environments with one simple FireWire cable connection. The processing blocks appear as VST/AU plug-ins (RTAS support via FXPansion wrapper) – including an authentic SSL channel strip with filters, E and G series EQ and dynamics processing, as well as the legendary SSL Stereo Bus Compressor.
EQ & Dynamics Channel Plug-In
The EQ and Dynamics Channel Strip plug-in is ported from the C200 console and includes separate high and low pass filters, a four band parametric equalizer, an independent compressor/limiter and gate/expander as well as an output gain adjustment knob.
Filter Section
The Filter Section of the EQ and Dynamics Channel Strip plug-in includes a 12dB/Octave low pass filter and an 18dB/Octave high pass filter. The filters can be placed after the equalizer, before the equalizer or in the sidechain of the Dynamics section.
Equalizer Section
The Equalizer section is a classic, flexible four band parametric EQ. This plug-in includes two distinct EQ flavours, one based on the SSL G series EQ and another based on the latest version of SSL's legendary E series EQ. The plug-in includes high and low frequency shelving equalizers (which can be switched to peaking curves) and two overlapping equalizers with adjustable Q. Like the Filters section, the EQ section can be switched into the side chain of the Dynamics section. If both Filter and EQ sections are assigned to the dynamic side chain the Filter section precedes the EQ.
Dynamics Section
The EQ and Dynamics Channel Strip compressor/limiter section has a number of key features including a variable compression ratio from 1:1 to Infinity:1, a variable threshold from -30dB to +10dB, auto sensing attack time (or selectable 1ms attack time), and a variable release from 0.1 to 4 seconds. The Compressor/Limiter has two modes of signal detection, Peak and RMS. As their names suggest these modes of detection either act on peaks of the incoming signals or on their RMS levels. This gives two very different modes of compression and limiting with Peak Mode giving far more dramatic compression characteristics.
Expander/Gate
The Expander/Gate controls include a variable range from 0 to 40dB, a variable threshold from -30dB to +10dB, an auto-sensing attack time (switchable to 150 micro seconds), a variable hold time from 0 to four seconds and a variable release time from 0.1 to 4 seconds.
Stereo Bus Compressor Plug-In
The Duende Bus Compressor brings the dual benefits of spectacular audio performance with a universally acclaimed compressor characteristic. Taking its sonic cues from the bus compressor found in the Solid State Logic SL 4000 G Series console, the world's most successful studio production console, the plug-in delivers a sound quality that has produced hundreds of best selling recordings.
Duende ships initially with compatibility for Mac, with a PC version to follow later in 2006. Retail Price is $1899 US. More information on Solid State Logic Duende