Sony To Launch 8GB Hard Drive Walkman NW-A1200
Sony is set to introduce a new 8 GB Hard Drive Walkman in two color variations, pink and violet. The digital music player has several stylish features including a "hidden" 1.5 inch electroluminescent display that shows song information as if it appears magically on its surface. It can play up to 20 hours (Although your mileage may vary) on a single two hour charge and connect to your computer via USB 2.0.
The NW-A1200 can play back MP3, WMA, AAC and ATRAC files, but cannot play songs downloaded from the iTunes music store. Sony has also implemented two new intelligent shuffle functions including Time Machine Shuffle and My Favorite Shuffle which will learn what songs you like the best.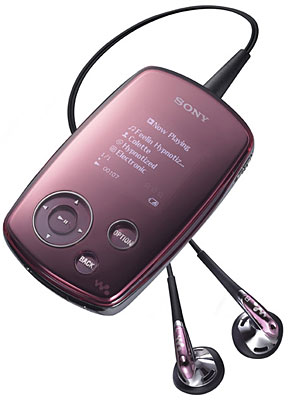 Features:
• 8GB Hard Disk Drive – Store approx 5,000 of your favorite songs. In addition to audio that can be transferred to the NW-A1200, it is also possible to store data files.
• Supports Multiple Audio Formats – For customers who already have extensive MP3 music libraries, the included software and hardware allows them to store and play back their collection. This device also supports playback of WMA and AAC files that were ripped from a customers existing CDs (but not songs downloaded from iTunes). For the customer who is just getting into digital music and downloading, Sony's ATRAC format provides higher sound quality with smaller files than many competing formats. This enables the user to store more music and have longer listening times. Compatible with commonly used digital music formats including MP3, ATRAC, ATRAC3plus, WMA and AAC2.
• Intelligent Shuffle and Easy Search – Now you can take control over your shuffle. Introducing My Favorite Shuffle which allows you to shuffle play among your favorite songs and artists, or shuffle songs from randomly selected years with the new Time Machine Shuffle feature. Searching for an artist or song just got easier; quickly browse your library using the first initial function.
• Artist Link – Easily access similar artists, songs and albums located within your music library with the touch of a button.
• Hours of Continuous Playback – Enjoy up to 20 hours of continuous playback with a rechargeable lithium-ion battery.
• Direct Battery Charge via USB or Supplied Adapter – Charge the NW-A1200 Walkman with the supplied AC adaptor or USB cable. For a quick charge, plug in the AC adapter and the unit will be charged to 80% capacity in 1 hour.
• Skip-Free5 G-Protection Technology – Built to provide quick recovery from both horizontal and vertical shock.
• G-Sensor Shock Protection for Impact Protection – The innovative G-Sensor system automatically and instantly reacts to changes in gravity and velocity by releasing the recording head. this protects the hard disk surface, preventing crashes and loss of data, ultimately improving long term reliability.
• Organic Electroluminescence Display – A unique 1.5″ screen offers a crisp, clear view of player functions and data while creating the illusion of a "floating" display that takes up the entire surface of the device.
• Connect Music Store Compatible – The Connect Music Store provides an easy method for downloading personal music. Access thousands of songs from old favorites to the latest cuts not that anyone will want to shop for music there…
• SonicStage Music Management Software Supplied – Manage your music, create playlists, burn CDs, import digital files and easily transfer music to your Walkman® MP3 player.
• Multi-Language Display – Allows you to choose from 9 different languages including: English, Japanese, French, German, Italian, Spanish, Korean and Chinese (traditional/simplified).
• 6-Band Equalizer
• Available in 2 Color Variations – Pink and Violet.
Sony is rumored to release the unit in July for around $200 US.