Tascam DJ Stumbles
Ever since Apple's first generation iPod came out with the rotating jog wheel, DJ's have fantasized about the idea of mixing with two portable MP3 players. Numark was quick to jump on the bandwagon with their sleek iDJ and has followed that up with the even more advanced iDJ2, which has pitch control, a feature that dogged the iDJ for DJs interested in seamless mixing. Tascam DJ, the bastard stepchild of the Tascam conglomerate, is now shipping their own version of the iPod DJ deck, the CD-DJ1.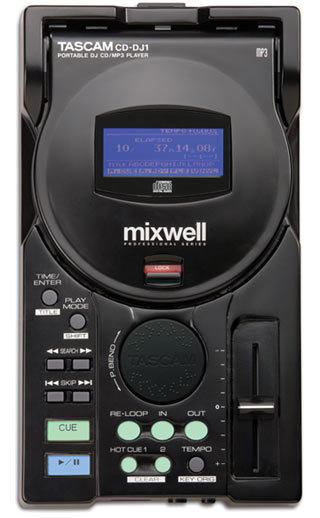 Announced at the NAMM show last January, the CD-DJ1 looks like the offspring of a Pioneer CDJ-1000 and a Roland SP-202. The unit's layout is horrendous with a tiny little jog wheel and a small blue LCD screen housed in an oversided bubble that takes up more than half the unit's interface. The design of the unit apparently is the collaboration between Mixwell and Tascam. Why Tascam would solicit an apparel maker to help design a forward-thinking MP3 player for DJs is beyond most.
The reason for this partnership can't even be substantiated by Tascam DJ's Product Manager, Dave Arevalo (now with Pioneer –Ed.) who came up with some skater punk attitude instead of a significant reason for working with Mixwell: "We are really excited to be working with Mixwell, We are working closely together on some very cool and unique products. To have their expert input and seal of approval is an honor." Sound idiotic? It's a direct quote from Tascam's pathetic press release.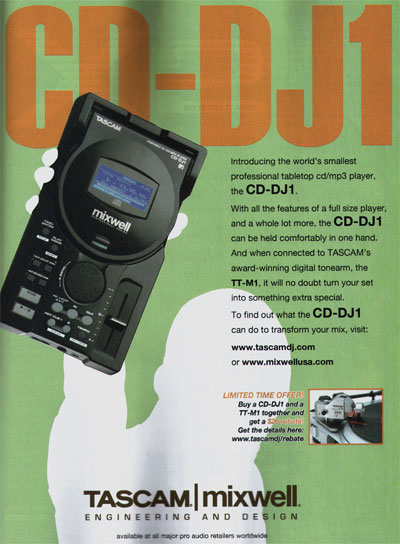 What's worse is Tascam's current magazine advertising campaign that feature a butt-ugly split pea green and puke orange color scheme with some of the worst ad copy witnessed in a long time. In addition, Mixwell's brand is prominently featured with their website address, but when you visit the site the CD-DJ1 isn't even mentioned. Tascam DJ's website is not much better with very little specifics about the product and clumsy documentation.
So Tascam, why even bother? If you're going to put this kind of lackluster effort into a new product that's already outdated, why are you even in the DJ niche? Either get out of this arena or step it up with smart partnerships, smart PR, smart product managers, and most importantly, smart products. This embarrassing product release is damaging your core brand.