M-Audio Introduces Session
What GarageBand is to the Mac, Session is for the PC
M-Audio announced Session, an easy-to-use software application for budding musicians who want a user-friendly way to create music on a PC. The new software empowers Windows users to create loop-based music – or layers of pre-recorded segments of individual sounds – in a variety of styles and genres. Users can also use the software to alter loop tempos and pitch characteristics, and record traditional musical instruments directly onto a computer hard drive. Widely regarded as a leader in professional hardware solutions for musicians, M-Audio makes its foray into consumer software with the release of the Session application.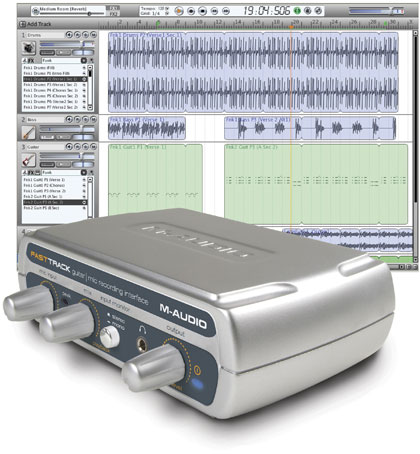 "Apple's GarageBand has done a wonderful job of bringing consumer music-creation to the Mac market," said Tony McCall, vice president of M-Audio's consumer group. "As a result, there's a huge contingent of users who are hungry for a PC-friendly solution, and M-Audio's Session software is exactly what those users have been waiting for. We designed Session from the ground up so that music enthusiasts would have an easy way to create their own music on a computer with virtually no learning curve. The result is a fun, friendly application that lets people enjoy the creative process and quickly make music without getting caught up in technical details."
Session software enables music inspired users to simply and affordably turn a PC into a home recording studio. The Session application greatly reduces the learning curve and lets users dive right in and begin making music almost instantly. It also scales with users' abilities as they become more proficient and wish to tackle more ambitious musical projects.
For beginners, the Session application allows users to easily create loop-based music. Loops are pre-recorded segments of individual sounds that, when layered together, can generate a complex and beautiful musical tapestry. Session software boasts a 2GB library of loops and instrument sounds in almost every style imaginable. By adding a MIDI keyboard, users can play and record a wide array of professional instruments – such as a grand piano or saxophone – all within the Session software. Although the loops are pre-recorded, users have the ability to not only combine musical elements, but also to alter characteristics such as tempo and pitch, and effectively customize the music to accommodate their favorite styles.
For users who seek even more creative control of their music, the Session application offers the ability to digitally record traditional instruments directly onto the computer's hard drive. Using an audio interface, such as M-Audio's Fast Track USB, consumers can record just about any audio signal – from their favorite guitar riffs to their own vocals. Once audio has been recorded, Session software can aggregate an endless array of customer-recorded instruments and sounds with the pre-recorded loops in the library, enabling users to create unique musical compositions of their own. Users can then save the creations directly to the PC or burn them on a CD.
Session software is currently included free-of-charge with M-Audio's Fast Track USB