Eliosound Releases AirEQ
Eliosound has released their first product, AirEQ, a new musical equalizer created to meet the high standards of musicians, mixing engineers and producers. Mixing, mastering, tracking, whatever your needs, AirEQ brings you the same quality of equalization in the whole audio range. It reportably also plays nice with your CPU by not taxing it even with multiple instances.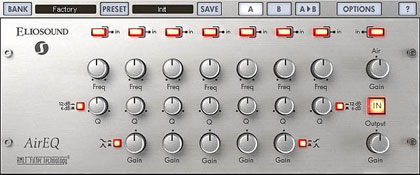 AirEQ accurately reproduces analog equalization characteristics, as well as being able to reproduce musical tuning with their special "Air" band – a new type of filter that assists in restoring or to adding sound brightness. AirEQ is a very convenient and musical tool, which helps you focus on what's the most important when equalizing, your music.
AirEQ works in all mixing situations because of its zero delay technology. For use in tracking or in a live situation, it's the only equalizer on the market with such quality and no processing delay, with a low cpu usage.
AirEQ is based on a new filtering technology, AMLT (Analog Matched Linear Transform), developed by Eliosound. Using new and innovative algorithms, as well as an intuitive interface, AirEQ is the perfect balance between technology, ergonomics and the best equalization sound.
AirEQ is available for $269 US in VST and AU formats for Windows and Mac OS X. RTAS version coming soon. A non dongled demo version will also be available soon. For more information on Eliosound AirEQ check out their website.