LinPlug Updates Albino Virtual Synth
LinPlug has updated their Albino virtual synthesizer to version 3. Highlights include: the ability to layer up to four instances of Albino in a single preset, two new filters "Comb" and "Scream" – new effects, LoFi and WahWah – a new compressor algorithm and a much improved Reverb. Plus more than 2100 Rob Papen high-quality presets.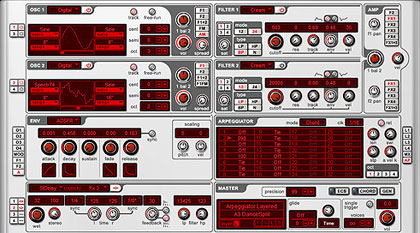 • AU, RTAS and VST plug-in synthesizer for PC and Mac
• Modular and extendable design currently with with 4 Oscillator Modules, 4 Filter Modules, 2 Envelope Modules and • 12 Effect Modules
• 32 voice polyphonic (CPU dependent)
• More than more than 2000 Rob Papen presets, integrated sound browser
• up to 4 oscillator per voice and layer, various High Quality Oscillator types with countless waveforms
• Oscillator AM and FM and "Pulse Width Modulation" for all (!) waveforms, oscillator sync, filter FM
• up to 2 filters per voice and layer, each with 4 types of multimode filters, altogether 20 filter modes, saturation control
• up to 8 envelopes per voice and layer, 2 types: 5 levels / 5 rates with loop and ADSFR mode
• Variable keyboard and velocity tracking, individual for each envelope up to 4 LFO's per voice and layer with various waveforms, broad range of tempo sync, Symmetry and Phase adjustable, additional DAD envelopes for every LFO
• Controller hardware (faderbox or synth) can be used to control Albinos parameters using the LinPlug ECS
• Portamento / Glide with various options, constant Time or Rate and Auto-Bend
• Improved adjustable Precision to bring in the warmth of good old analogue modules
• Sophisticated Arpeggiator per layr with 32 programmeable steps, several modes, swing, several clock settings, save/load/copy/paste and many more functions
• Modulation matrix with more than 1000 possible modulation routings
• Spread for ultra-fat sounds (up to 20 Oscillators per layer)
• Microtuning support (TUN files) for different scales
• Up to 4 effect blocks per layer with chorus, flanger, phaser, filter, distortion, delays, reverb, gator, wah, compressor and LoFi effects
• Fully recognized velocity, mono and poly aftertouch, pitch bend, mod-wheel and various other controllers
• Full version comes with a comprehensive PDF manual (box version with printed manual)
• Sample accurate timing, full automation and settings are saved with your song
Each preset can now be made up of 4 individual layers. So actually a sound can make use of up to 80 oscillators for a single note ( 4 Layers, 4 Oscillators each, 5 times Spread). A typical todays DAW, either Mac or PC can usually handle about 120 Albino 3 Digital Oscillators or 75 Albino 3 "Analoge" Oscillators. But to explore the musical possibilities that the Albino 3 Layers offer to you we recommend to check out the presets that come with Albino 3. Some people told us that now they have a full song right at their fingertips. Thanks for the compliment.
The famed Dutch sound designer Rob Papen provided more than 2000 presets that cover all type of sounds for todays contemporary music. After providing presets for the Emu Orbit-3 and Access Virus. Get hold of the third version of this masterpiece of instrument design and sound design, get hold of Albino 3 and the more than 2000 Rob Papen presets for the music of today.
Each layer can have an up to 32 step rhythm arpeggiator with several modes in : up, down, up/down, down/up, as played, random mode and a chord and modulation mode. It can be retriggered, it can swing with your music and you can mix its step velocity values with the velocity you played the chord. Your own creations can be save or copy/pasted to other presets. Many of the new presets make use of the Arpeggiator and the possibilities are literary endless.
Minimum Requirements:
AU or VST2.0 capable host software, Screen resolution of 1024 x 768
PC: 500 MHz, 256 Mb RAM, Windows 98 or newer
Mac: 500 MHz, 256 Mb RAM , Mac OSX 10.2.6 or higher
Recommended Requirements:
Screen resolution of 1280 x 960
PC: 1 GHz, 512 Mb RAM, Windows XP or newer
Mac: 1 GHz, 512 Mb RAM , Mac OSX 10.2.6 or higher
The Albino is available in a box including more than 2000 presets, a CD and a comprehensive printed manual in English (in Japan in Japanese). The retail price is $199 US / 199 Euro / 27,800 Yen.