MusicGremlin: Wi-Fi iPod
MusicGremlin has launched a 8 GIG Flash memory, WiFi digital audio player which allows a user to acquire and wirelessly share digital music from the palm of their hand. Users will be able to download music from a catalog over two million available songs over-the-air and on-demand. The unit also features a FM receiver, two-inch color LCD screen and a glossy black case.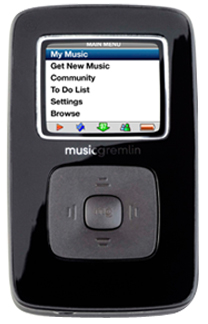 With a MusicGremlin device, users can download music anywhere they can connect to an available WiFi network. The device's WiFi manager scans and connects to available networks in the background, without interrupting a user's listening experience. Even when not connected, users can browse and purchase new music, which is then delivered to their device the next time they connect.
The MusicGremlin player gives users access to more than two million songs from the MusicGremlin Direct service (a rebranding of RealNetwork's MusicNet -Ed.). MusicGremlin Direct offers consumers the option to subscribe to an unlimited all-you-can-eat monthly subscription service or to purchase downloads individually for permanent ownership. Customers can also purchase and download music and manage their accounts through a Web-based version of the service that can be accessed through a PC. MusicGremlin Direct includes content from all four major and 25,000 independent labels.
MusicGremlin Direct subscribers also gain access to MusicGremlin's proprietary Gremlist service, which provides users with added convenience by offering pre-programmed, commercial-free music playlists which are automatically pushed to their devices as part of their subscription service. This no-hassle feature allows users to regularly get fresh content on their devices with no additional effort. The MusicGremlin player wirelessly connects to other MusicGremlin-enabled players, either locally or over the Internet, creating the first-ever portable music community. With permission, users can browse music collections of other users, and, if subscribers, can download desired songs.
The MusicGremlin retails for $299.
The Future: MusicGremlin's Gremlist service is the killer app of this device. Seemlessly incorporating the ability to share playlists wirelessly is only the tip of the iceberg. Hopefully, MusicGremlin will add more community based features that will allow the new device to become a wireless music portal and a new serious contender to Apple's iPod
More information on MusicGremlin