GenoQs Machines Announces New Octopus Hardware Sequencer
Update: Pricing has been announced!
GenoQs, a concern from Germany, has announced that the Octopus – what looks like a next generation Latronic Notron – will be shipping this summer. The Notron was an expensive hardware sequencer developed by English tweeker, Gerrard Campbell. Gerrard demonstrated the Notron to us personally utilizing the hardware and an Akai S3000 sampler and we were completely blown away.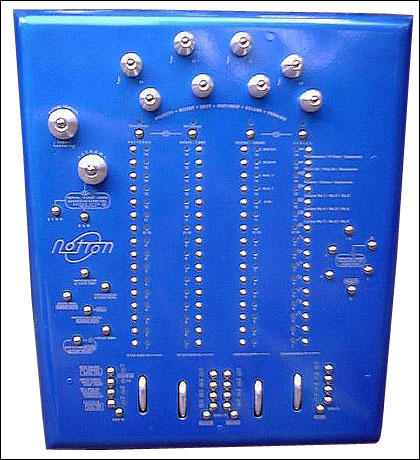 We always thought that someone would develop a software Notron employing one of the many excellent hardware controllers on the market, but it has never happened and Campbell has vanished from the scene.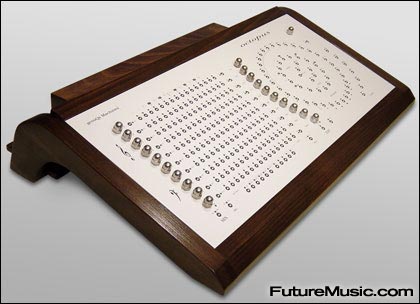 From preliminary pictures, the new Octopus appears to be beautifully crafted with 21 "endless" heavy-weight knobs, 258 buttons and lovely wood backings. Using the unit is both complicated and simple with 144 sequencer "pages" and several "modes."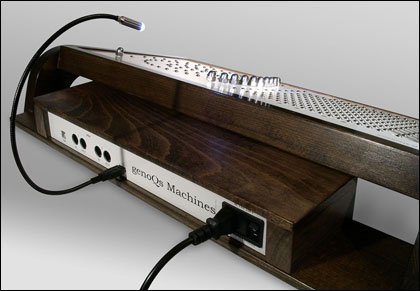 Octopus features a grid of 144 pages (also called "patterns"), which contain 10 tracks of 16 steps each. Operation in the various "zoom" modes allows you to work with as much detail as you wish and need, whether you are playing in the studio or performing on stage. Here's an overview of all the Octopus "Modes."
The Page Mode is the one most users will find themselves immediately familiar with. It is the place where one builds note patterns in the tracks, mutes and unmutes those tracks, modifies their pitches and velocities directly using the Mix Knobs. Once a selection is made (containing tracks or steps) you may edit their parameters as well in a selective manner using the Edit knobs. It is in the Scale View where the melodically (as opposed to rhythmically) inclined will find that building and modifying scales is rather easy to do and there is lots to experiment and discover about initially dull sounding material.
The Track mode is used to edit individual attributes of a track including velocity and pitch offsets, length, start point and direction, MIDI channel and groove factor. From here you may enter the track attribute maps, or simply toggle, randomize or clear the track.
Map Mode shows and edits the attribute map of a track. This means, the values of a particular attribute of track steps are shown as a value map, which can be edited and tweked as needed. The visual representation method varies per attribute as it is always suited to the values to be shown and their meaning.
In Step Mode you will view and edit the parameters of a selected step using the Mutator functions (a fancy name for a Mute button) and the Edit knobs. Important for fine tweaking step parameters such as Start and Length for example.
Grid Mode will typically be used for performance purposes. Here you may operate on the pages, such as muting, unmuting, selecting, randomizing, clearing, copying, grouping and transposing them. From here you can zoom into any page, make changes as in the Page mode, and return to your performace by zooming back out.
The price of the GenoQs Machines Octopus has been just announced at $3299 US.